Young Environmentalist Awards
Zara Griffin and Amelia Flanagan reach the Finals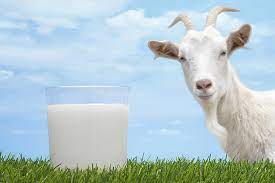 Third Year students Zara Griffin and Amelia Flanagan have reached the final of the Young Environmentalists Awards taking place on 26 May with their project on the environmental advantages of goats' milk over cows' milk.
Sir David Attenborough suggested, "the solutions we need to combat climate change are already available to us, it's just a matter of putting them into practice." The issue of cows producing methane is well documented, but science has no clear solution to it.
Zara and Amelia's project looks at both cows and goats and compares their environmental impact (their land use, manure, food, milk supply, natural health benefits). They wanted to find a milk that was not only better for the environment than cows' milk but also better for us, nutritionally, than plant milk and they found their solution in goat's milk! Though their project wanted to show people that it's not about making huge changes but small, effective ones - such as changing to a different type of milk.
Their project can be found on the ECO-UNESCO YEA website in the Climate Change section.