The Kate Russell All-Ireland Hockey Tournament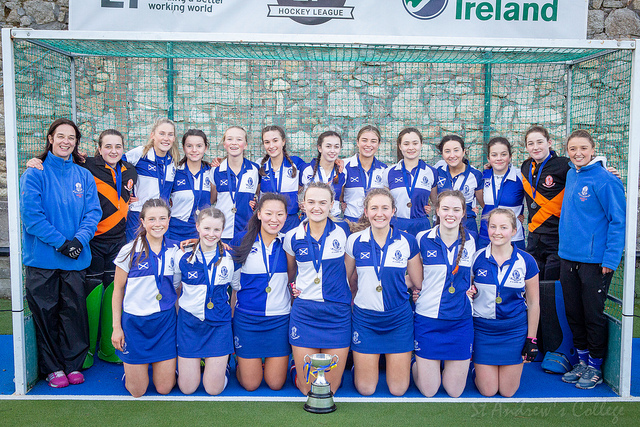 St Andrew's College played host to the Kate Russell All-Ireland Girls' Hockey Tournament on Thursday and Friday 21 and 22 March.
Our campaign kicked off at 9.30am on Thursday with a 0:1 loss against Crescent College (Munster). For some photos of this opening match please click here. Our second match against Coláiste Iognáid (Connacht) took place that afternoon with a full-time score of St Andrew's 3 - Coláiste Iognáid 0. For photos from this match please click here.
We played Banbridge Academy (Ulster) at 10.45am on Friday, a tough match against a strong side that ended with a 1:0 win to Banbridge. We closed the tournament at 4pm playing last year's Kate Russell winners Kilkenny College (South East), a match that ended with a 2:0 win to St Andrew's.
Scores: Leinster Hockey created this page on their website dedicated to the tournament on which they posted all the results, etc.
St Andrew's College Results:
| | | |
| --- | --- | --- |
| Thursday 21 March | | |
| 9.30am | St Andrew's 0 | Crescent College 1 |
| 1.30pm | St Andrew's 3 | Coláiste Iognáid 0 |
| Friday 22 March | | |
| 10.45am | St Andrew's 0 | Banbridge Academy 1 |
| 4.00pm | St Andrew's 2 | Kilkenny College 0 |
Tournament Results:
| | |
| --- | --- |
| 1st Place | Crescent Community Comprehensive SJ (Munster) |
| 2nd Place | Banbridge Academy (Ulster) |
| 3rd Place | St Andrew's College (Leinster) |
| 4th Place | Kilkenny College (South East) |
| 5th Place | Colaiste Iognaid (Connacht) |