'Active Week' in the Junior School
Well done to all our students!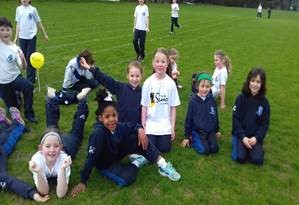 This week, 23 to 27 April, we had an amazing week brimming with activity and exercise in the Junior School. All classes thoroughly excelled in their sponsored walk/run and have really taken to the daily PE challenges. Additionally, Meat-Free Monday was a huge success with a third more children enjoying a hot lunch on Monday than usual! On Friday, the P4 to P6 children very much enjoyed their visit from Stephanie Meadow, a professional Irish golfer.
We would like to say a big THANK YOU to all parents and families for contributing so much to the Sponsored Walk fundraiser for the Dublin Simon Community. So far we have collected an incredible €4,800! We can truly say that the first Active Week in the Junior School was a huge success and will take pride of place in the calendar next year.
Go team SACJS!