St Andrew's Girls win Leinster Senior Cup
Match Report by Ben Hickmott
The afternoon of Friday 8 February saw Grange Road play host to a dramatic Senior Girls' Cup Final. St Andrew's looked on top in opening exchanges. They took the lead early on after a scramble in the circle led to Gaby Lewis' ball finding Martha McCready before she slotted the ball home calmly. Wesley began to pile on the pressure but half time stopped them in their tracks, or so it seemed. Just one minute into the second half they equalised. Rachel Patterson's interception gave way for her inch-perfect ball to Laura Gillespie who dinked the ball over St Andrew's number one as she came rushing off her line.
An evenly-balanced twenty minutes of play ensued but the match ended 1-1 due to some great saves from each side's goalkeepers. 1v1s are always tense but Wesley looked to have the edge as they went 2-0 up. It looked done and dusted but St Andrew's managed to recover from the deficit due to the goalkeeping heroics of Iseult Cambay. The Booterstown school pulled off an amazing comeback to come out the victors with Gaby Lewis and Katie-Jane Marshall slotting home in sudden death to ensure the gold medals. St Andrew's will now play host to the Kate Russell All Ireland's in Booterstown in which they will be hoping to compete for the top spot.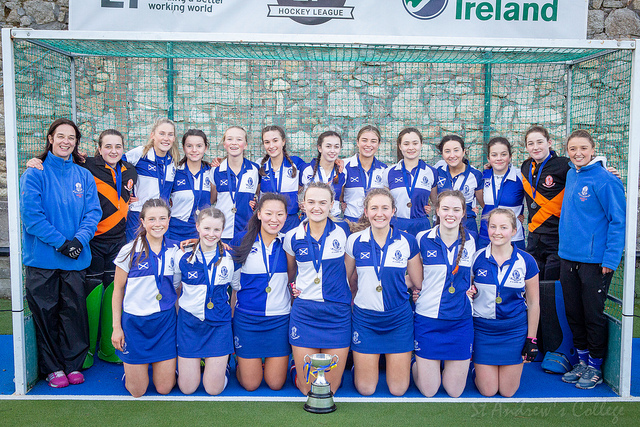 ST ANDREW'S: I Cambay, K-J Marshall, J Lord, A Orr, G Lewis, A Elliott, J Barrett, N O'Connell, R Diggin, D Aikens, M McCready.
Subs: K Murphy, R Walshe, T King, R O'Leary, J Byrne, E Arrowsmith, S Bulger
WESLEY COLLEGE: H Micklem, I Marcoux, A Dunlop, H McGrane, C Stapleton, E Paul, E McKay, L Gillespie, M Reid, S Breslin, S Wall.
Subs: F Onchonma, A O'Sullivan, E Taylor, A Esmonde, R Patterson, D McCabe, A O'Connor.
Please click here for more photographs.