A week of great Sport!
Read all about it ...........
AIJS Boys Basketball
This event took place on Wednesday 22 January, kindly hosted by Castlepark. Our boys worked hard and kept playing, but somehow the ball just would not go in the hoop!!! Hence results did not go our way but the boys did play some lovely basketball. Well done to Luke Bosse, Serge, Eoin, Cian, Max, Blake, Seth and Luke French.
Girls Hockey matches at St Gerard's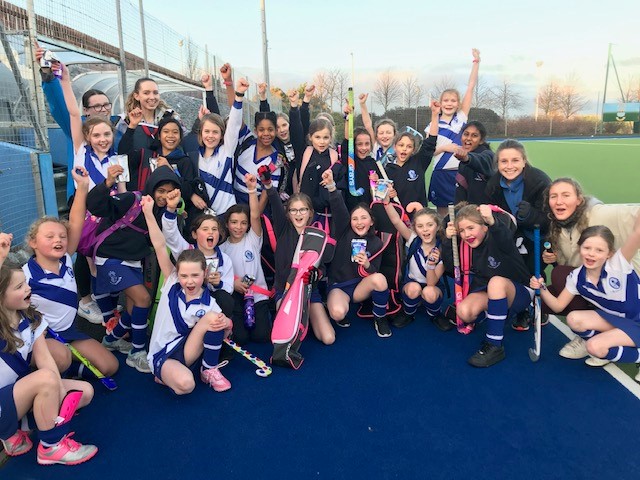 On Tuesday, two P4 teams and a P3 team went to St Gerard's to play matches.
It was a first outing for our P3's this season. They were all very excited and definitely up for a good game.Everyone played really well and the girls came away with a maiden 4/0 victory. Well done girls!
The P4's were not as fortunate, but they tried hard and kept at it and hopefully will have more luck next time out. They were up against some very strong St Gerard's players. Keep working hard girls!
P3 & P4 Hockey blitz
Teams from both P3 and P4 are representing the school in a hockey blitz in Railway Union on Friday 24 January.
We wish all the boys and girls taking part the best of luck.
JS Boys Hockey League results
The Junior School's boys' hockey teams played out two fantastic 3-2 wins against strong opposition from Whitechurch on Thursday.
In the B league game Charlie Trotter (P4) was on the scoresheet twice in a closely fought match that saw the side pick up their first league win of the season. Led by stand-in captain Luke Bosse, the team held on for a well deserved win.
In the A league match Serge Broughton (P6) scored two goals through some excellent counter-attacking hockey that saw the home team take an early lead against the run of play. After Eddie McCarthy added a third following a reply from Whitechurch, the home side headed into the break 3-1 to the good. The second half saw a the team dig in deep and demonstrate some excellent team work as they held on to win 3-2. The second half was summed up by an excellent defensive display with Dara O'Murchu particularly in fine form, preventing the equaliser. Well done to both teams!