SAIMUN Conference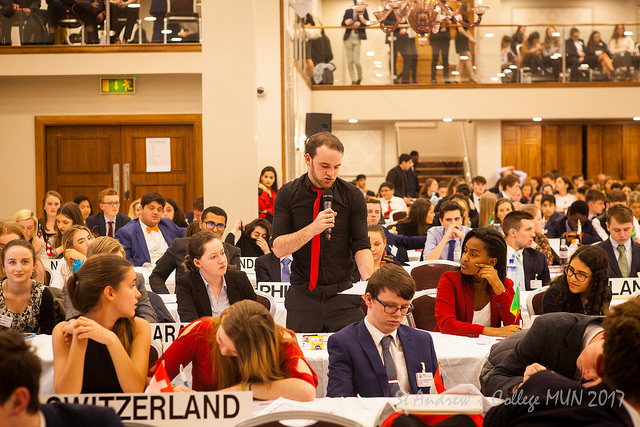 The 29th St Andrew's College MUN Conference took place in the Royal Marine Hotel in Dun Laoghaire during the Easter holidays from 10 to 13 April. Between delegates, student officers and administration there were over 800 people in attendance from all corners of the globe: South Africa, the United States, Lebanon, Peru, Israel, France and, for the first time, Malta.
Leading the 2017 Conference was President of the General Assembly Alex McGinn along with Secretaries General Hilary McKenna and Mark Cobuzzi.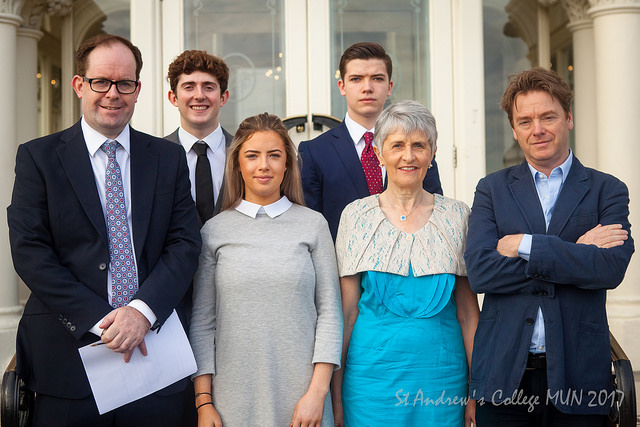 Mrs Kirby, David McWilliams and Mr Hehir spoke at the Opening Ceremony.
| | |
| --- | --- |
| Officers: | |
| President of the International Court of Justice: | Olivia Heron |
| Presidents of the Security Council: | Gavin McDaid and Kate Malone |
| | |
| Heads of Administration: | Emily Wyer, Zara Kramer and Aisling Madden |
| Head of Press: | Charlie Bracken |
| Head of ICT: | Aaron Speer |
The delegations of the United Kingdom (St Andrew's College: Greg Bateson (Ambassador), Robyn Tuohy, Olivia Masetti-Nolan, Sorcha Byrne, Harry Deacon, Emma Fogarty, Freddie McCready and Thomas Harley) and Nigeria (Wycombe Abbey) won the Outstanding Delegation awards.
The delegation of Togo from St Andrew's College (Lucy Dornan, Rudy O'Leary, Sanil Gupta, Trudy O'Hare, David Shanahan and Robben Beatty) won a Highly Commended Delegation award.
Deputy Principal, Mr Micallef, presented the awards at the Closing Ceremony.
For a gallery of photographs from the Conference please click here.