News
MARCH 2019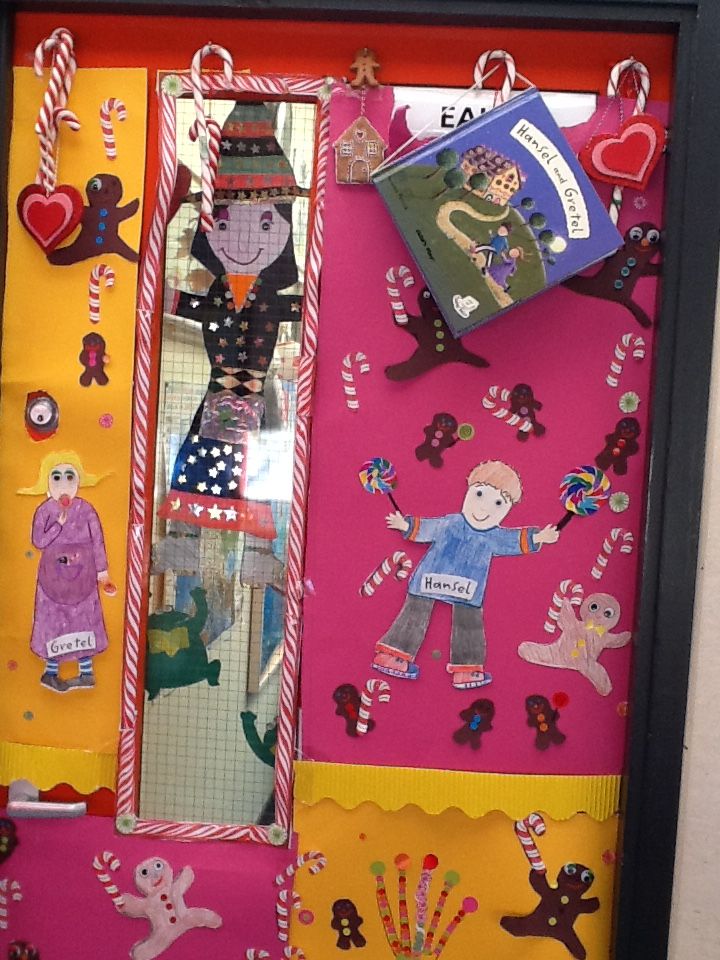 For World Book Day we designed doors to illustrate popular stories. We chose Hansel and Gretel to celebrate the event.
MARCH 2018
Lower Junior groups have been having fun making jolly leprechauns using a combination of printing techniques and paper construction. Orange paint printed with a pencil eraser created the hair. Yellow paint printed with a pencil eraser created gold coins and green paint printed with a potato created shamrocks.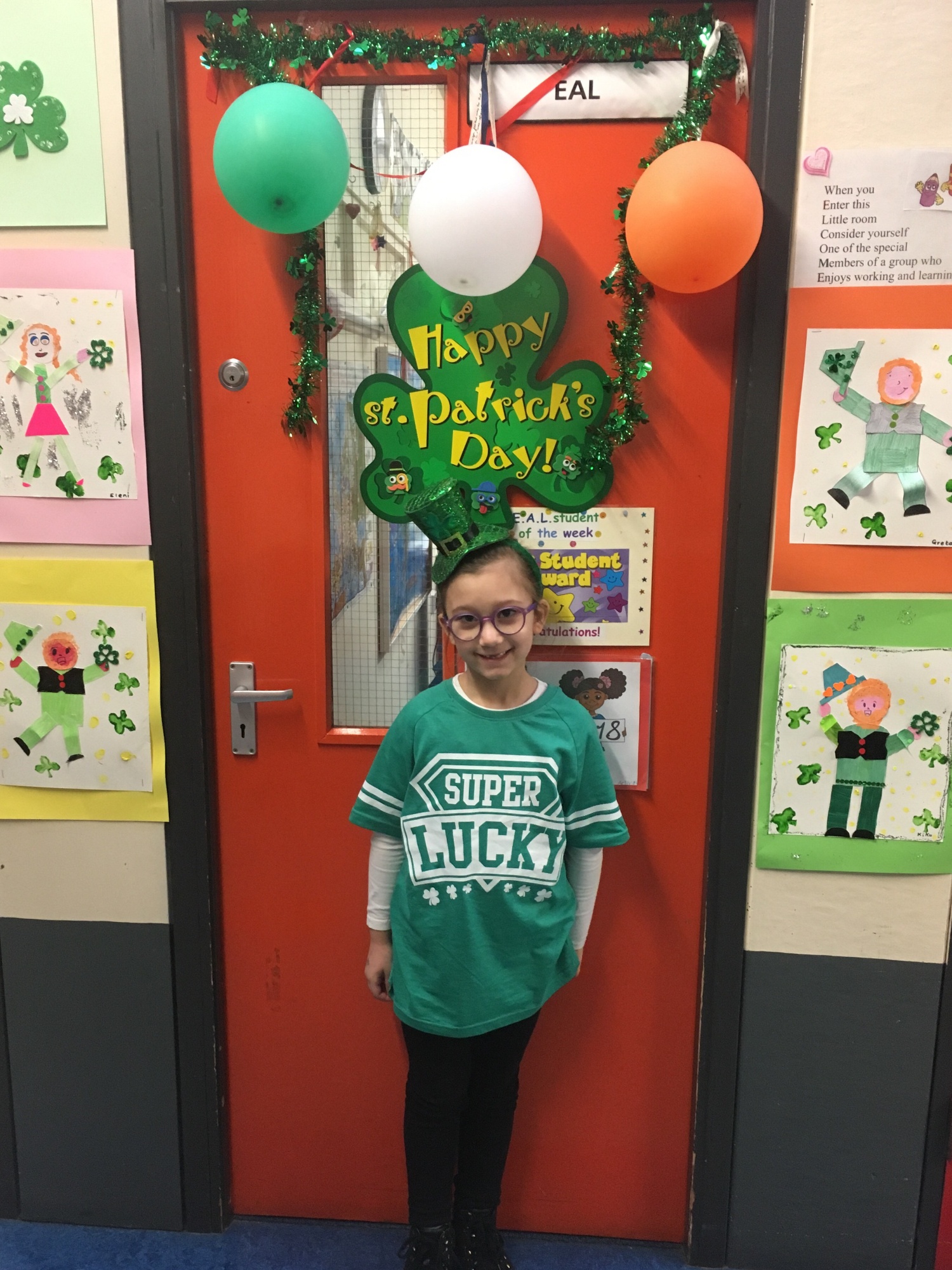 Each child went on to describe their leprechauns with some children deciding they wanted to make their leprechaun a girl!
FEBRUARY 2018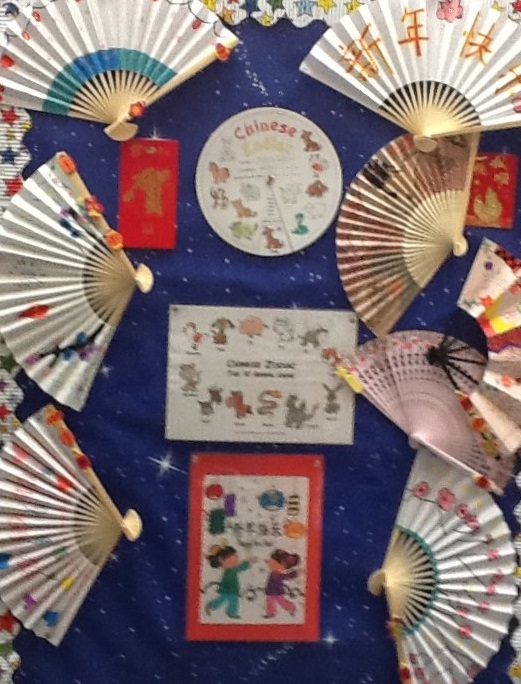 This month in EAL we talked about the Chinese New Year. This year is the Year of the Dog. The children designed fans and looked at Chinese stories. The older group looked at Chinese proverbs and talked about their meanings.
NOVEMBER 2017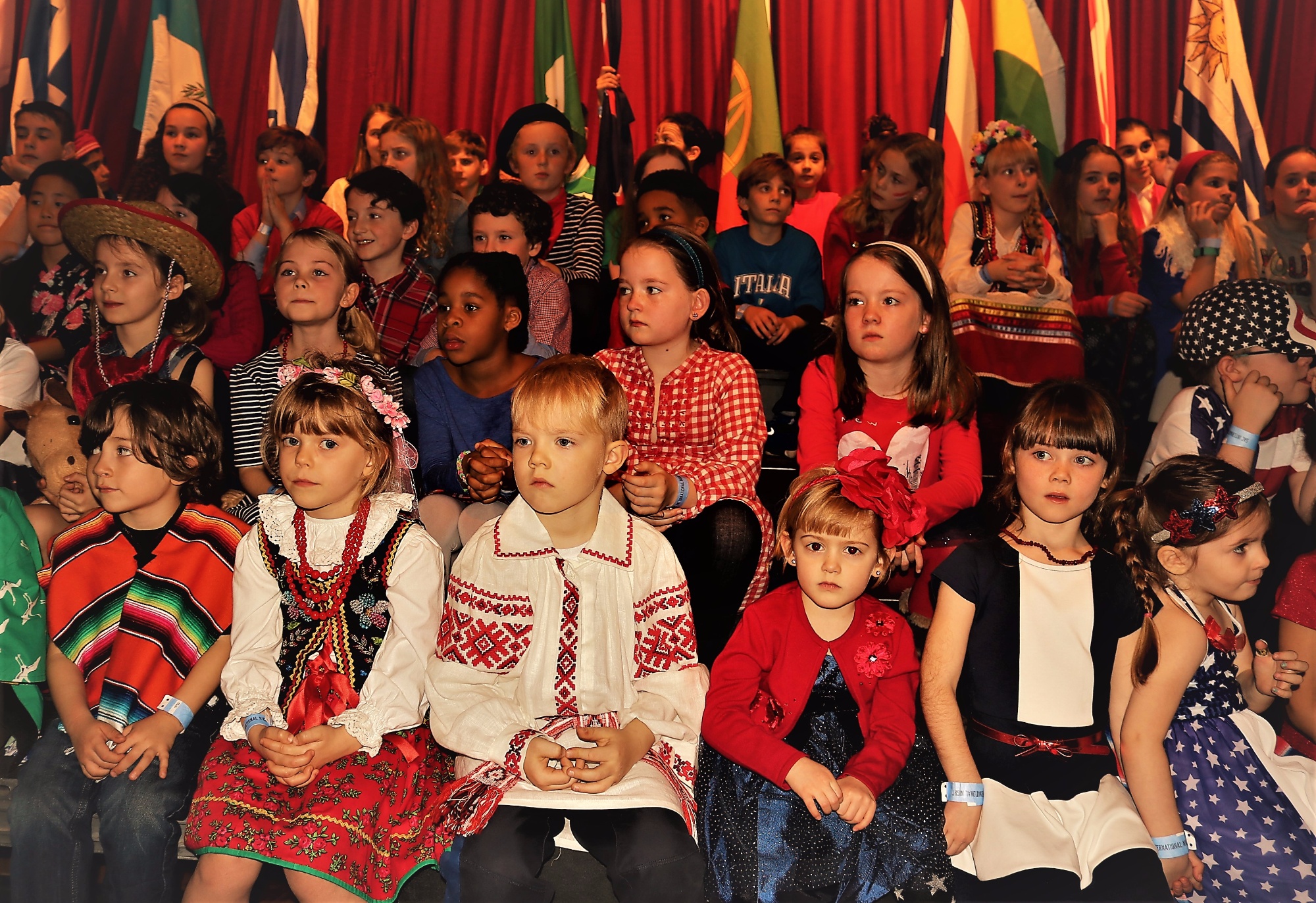 OH WHAT A NIGHT! - 15 November 2017
International Night at St Andrew's and what a colourful, happy night it was with the children all dressed up in their national costumes with lots of delicious delicacies from all around the world for us to taste and enjoy. Well done to everyone who took part - you were all fabulous!
OCTOBER 2017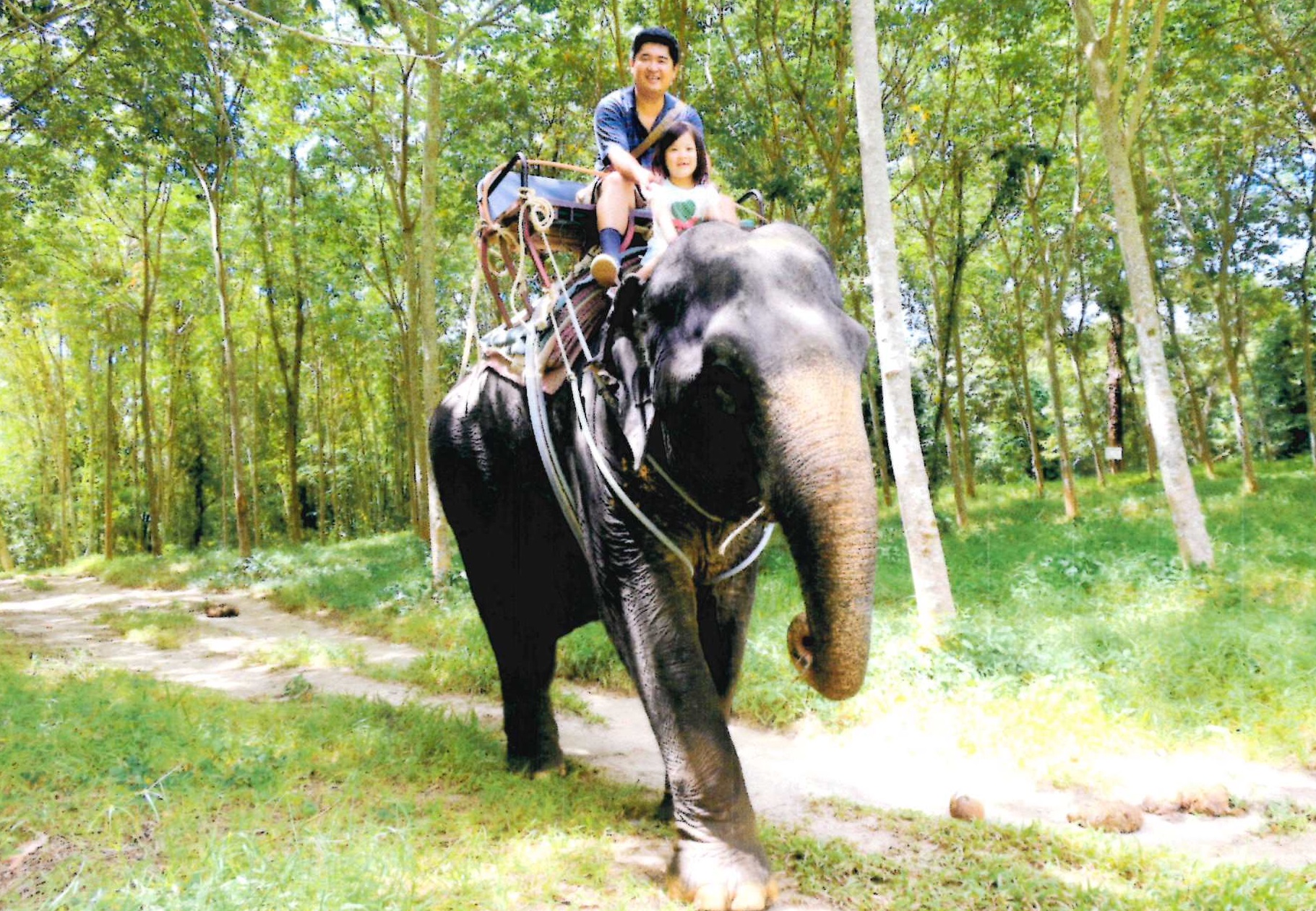 Welcome to all our new E.A.L. students. Sarah, a former pupil now living in Japan, wrote to us to say "Hello and good luck with the new term." She sent us a photo of her holiday in Thailand when she was lucky enough to ride on an elephant!
JUNE 2017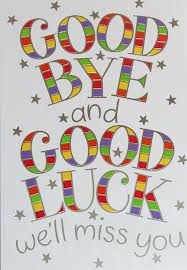 We send a fond farewell and lots of wishes for good luck to our E.A.L. leavers - Samuel and Laura Soriano who will go back to Bulgaria for a holiday and then back to Spain and Kairi Yamanda and Yuto Ogata will both return to Japan.
Happy Holidays everyone and we look forward to seeing you again soon.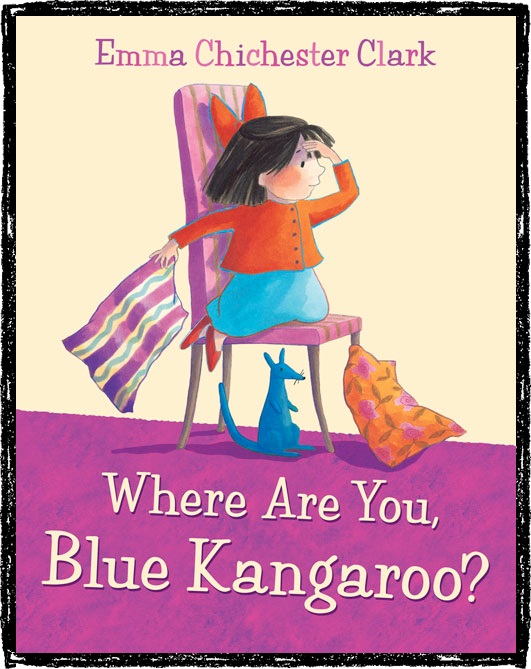 MAY 2017
Lower classes have been reading the book 'Where are you Blue Kangaroo?' Middle groups have been working on the use of procedural writing. The main purpose of this writing is to direct, inform or explain something. Upper classes have been looking at Native American poems after reading ' The Indian in the cupboard.'
Our favourite part of the poem Hiawatha is: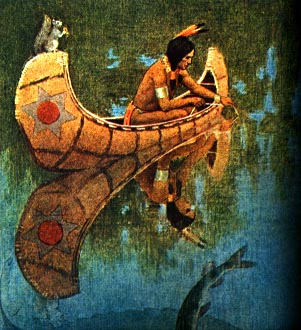 At the door on summer evenings
Sat the little Hiawatha;
Heard the whispering of the pine-trees,
Heard the lapping of the water,
Sounds of music, words of wonder.
In E.A.L. we love Sports Day!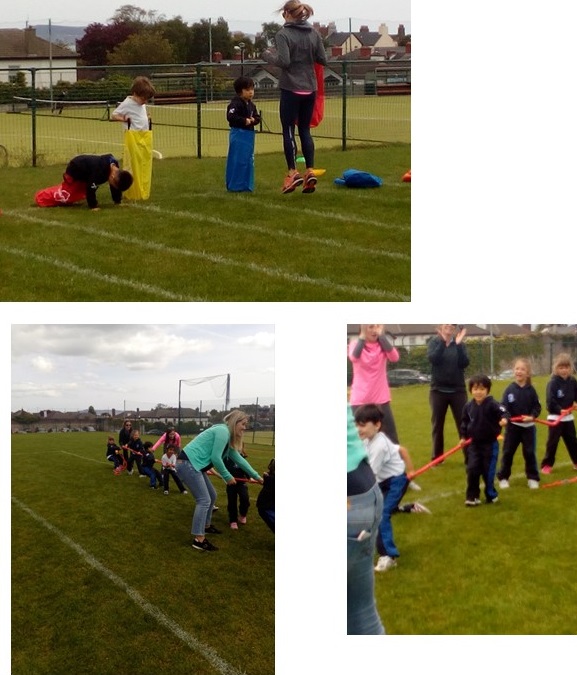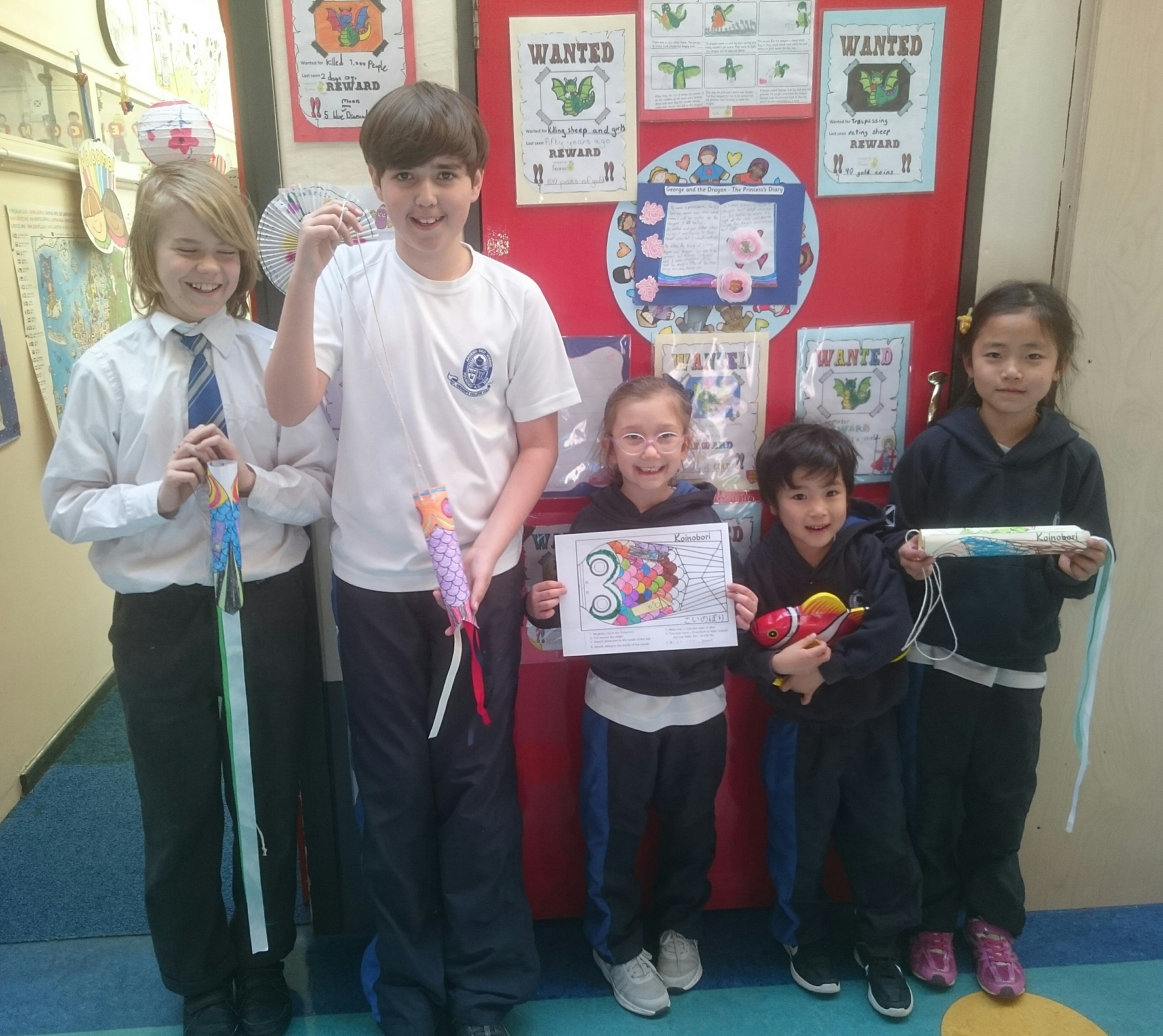 Kodomo No Hi (Children's Day) on 5 May is a very popular festival for children in Japan. It is a day of celebration. Giant Koinobori (carp kites) are flown all over Japan. Displays are set up in their homes, money is given and, best of all, the students have a day off school. The carp is chosen because it is a fish which swims upstream and represents strength and determination.
E.A.L. made their own kites and flew them in the playground.
April 2017
Upper classes have been working on Saint George's Day which was on 23 April. The children have designed WANTED posters for the dragon so if you spot him please contact E.A.L. immediately for a reward. We also composed acrostic poems and diary entries. Lower classes have been sending messages to Sarah in Japan and doing work on the story 'Noisy Farm' by Rod Campbell.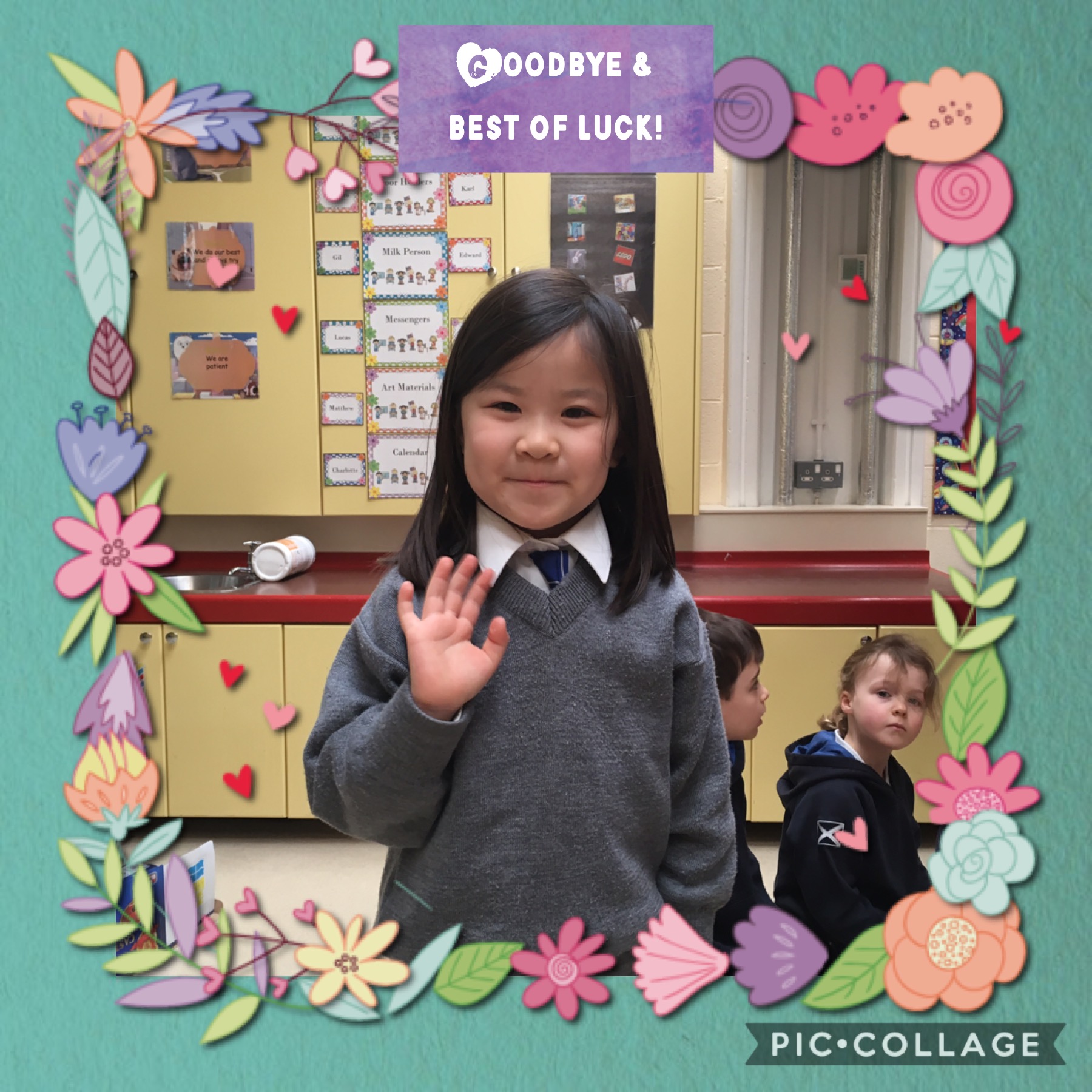 EA.L. wish Sarah every success and happiness in her new Japanese school. We have been interested to hear that children of five years old walk to school alone. They wear yellow hats and carry purple bags. You can see Sarah with her hat and bag in the lovely picture below.
The class are so proud of Sarah who has made such a good start in her new school. Well done Sarah - we miss you!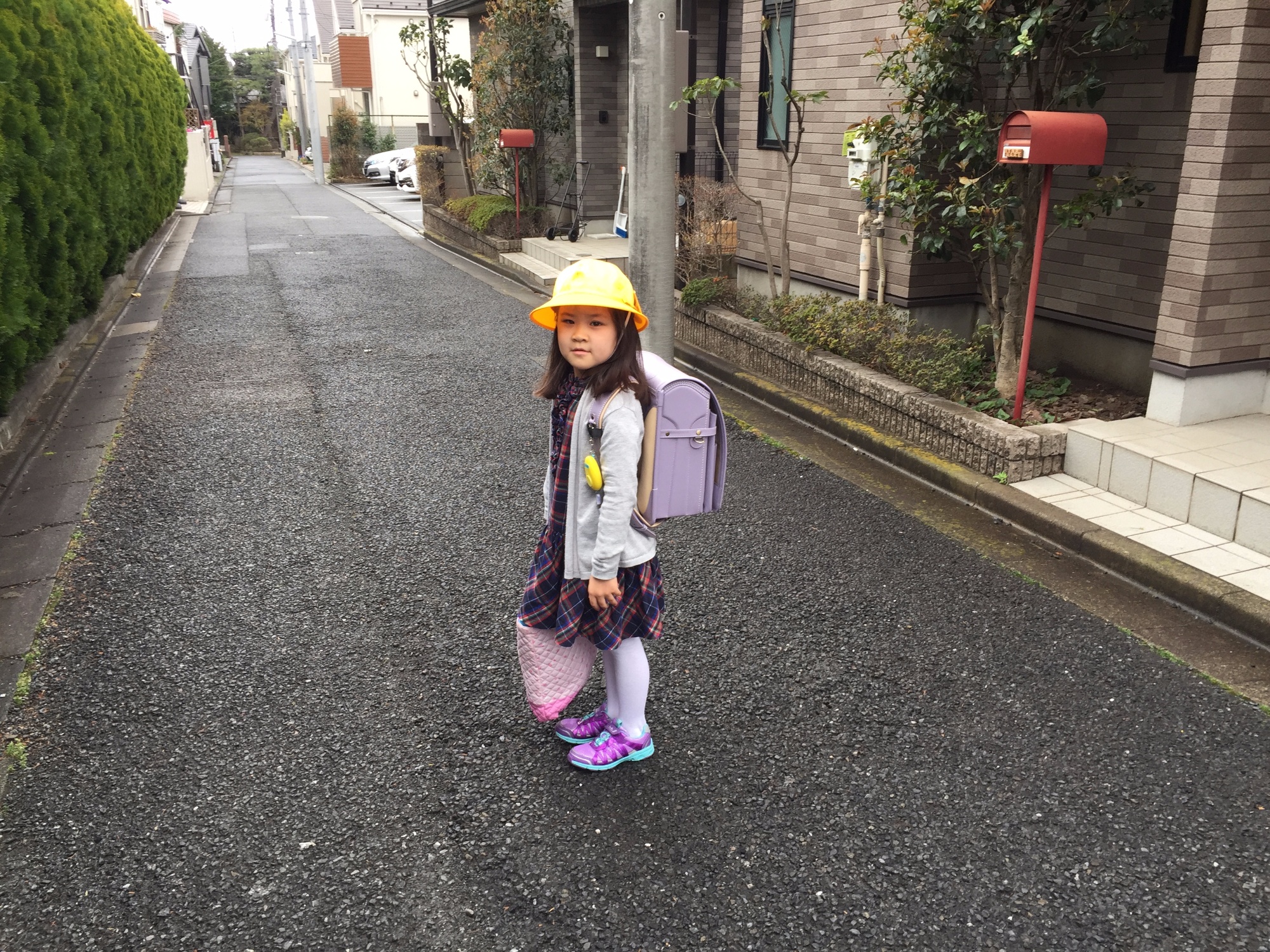 Fifth and sixth year classes have been looking at the history of Easter throughout the world. Younger classes have been very busy with Easter crafts including sewing, making cards and arranging patterns to make Easter pictures.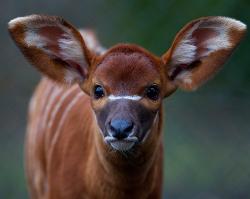 As we took down our wonderful Easter display we put up an adorable picture of an Eastern Bongo born in Dublin zoo. The Bongo is the largest of the African forest antelope species and very precious as there are only one hundred and forty left in the world. All of us in E.A.L. wish you a very Happy Easter.
March 2017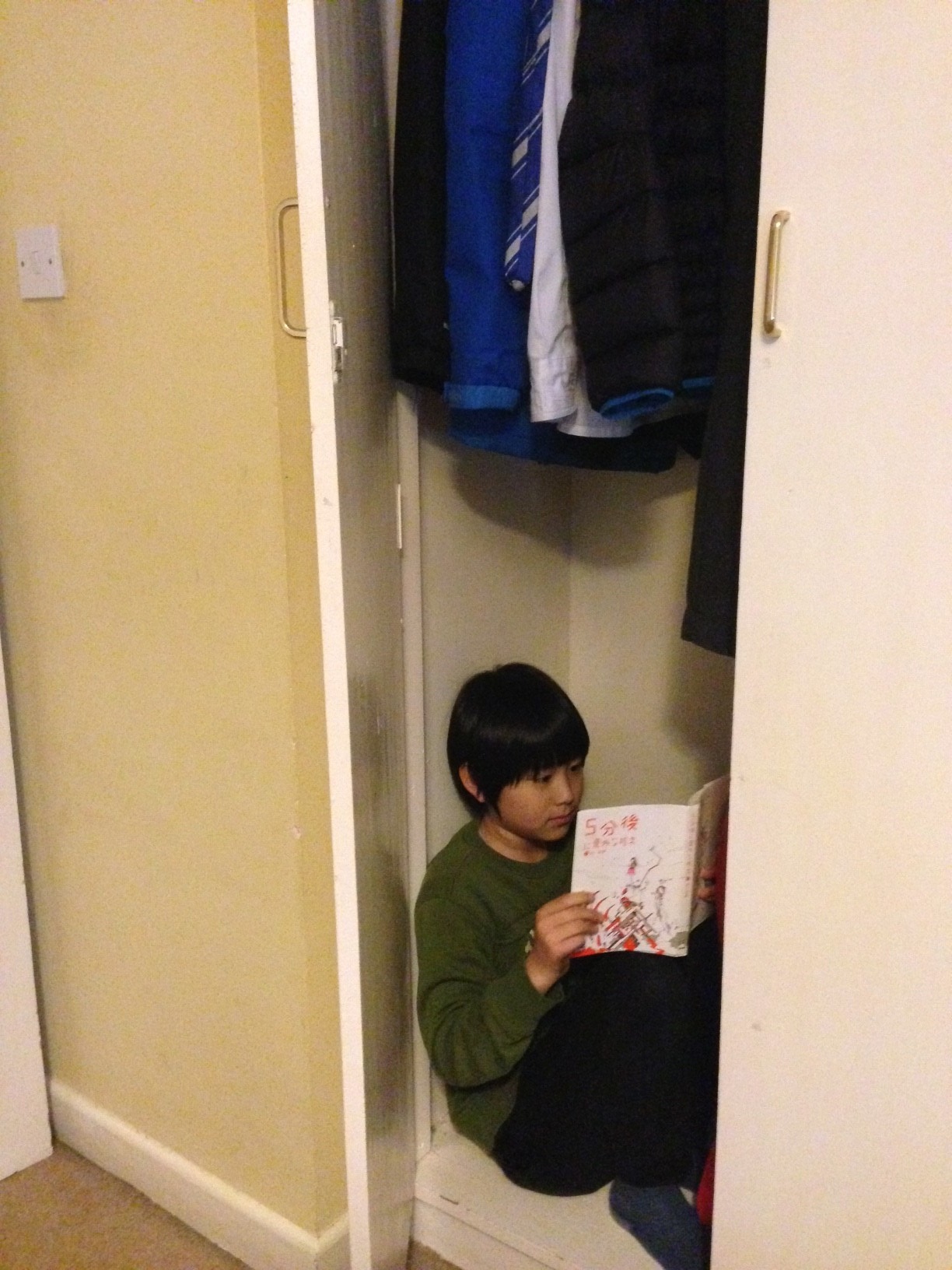 E.A.L. have enjoyed a wonderful week of reading and discussing books. A firm favourite is the book Beautiful Oops by Barney Saltzberg. The book teaches us that every mistake is an opportunity to make something beautiful.
As you can see, one of our students took World Book Day very seriously indeed!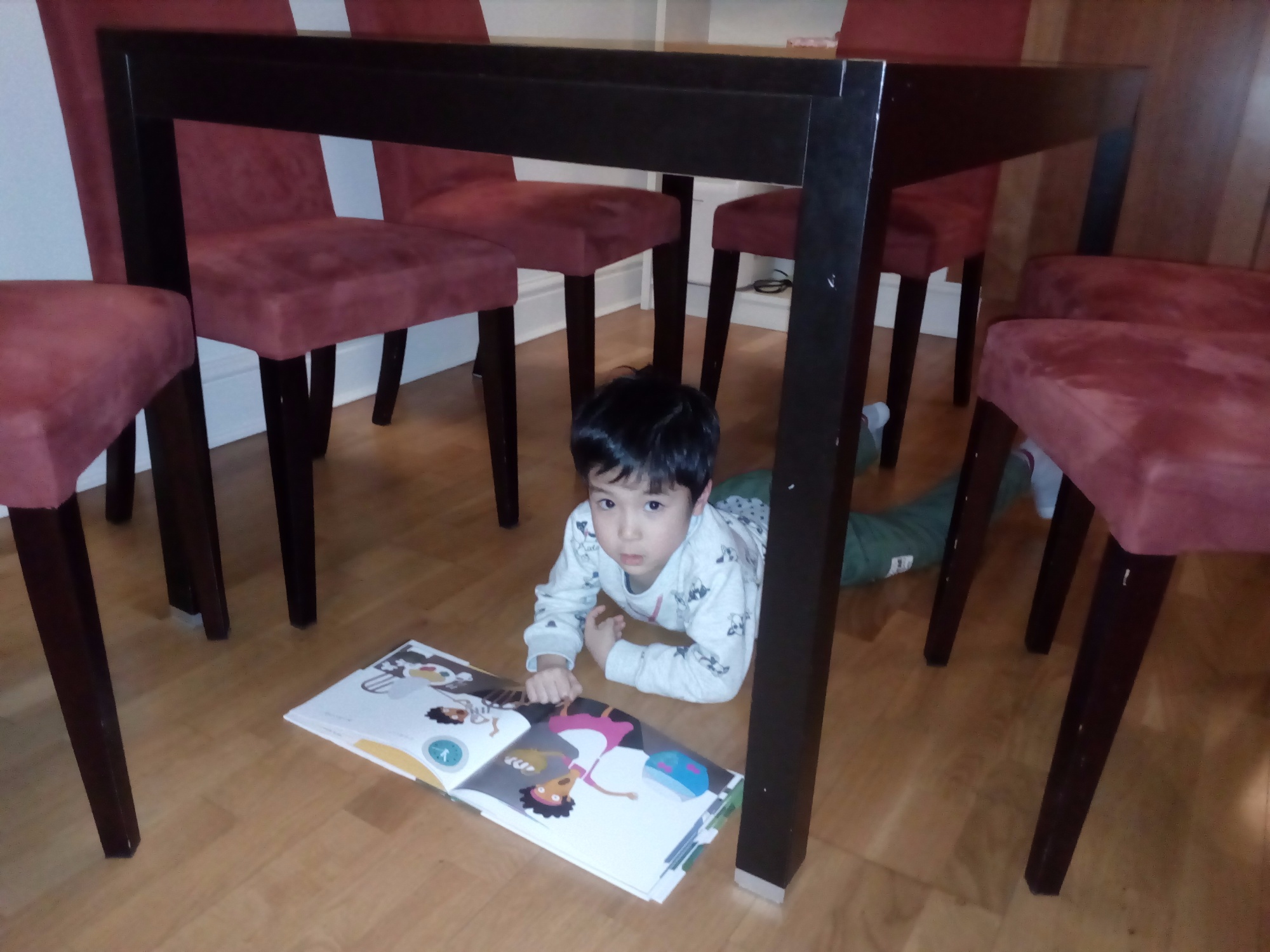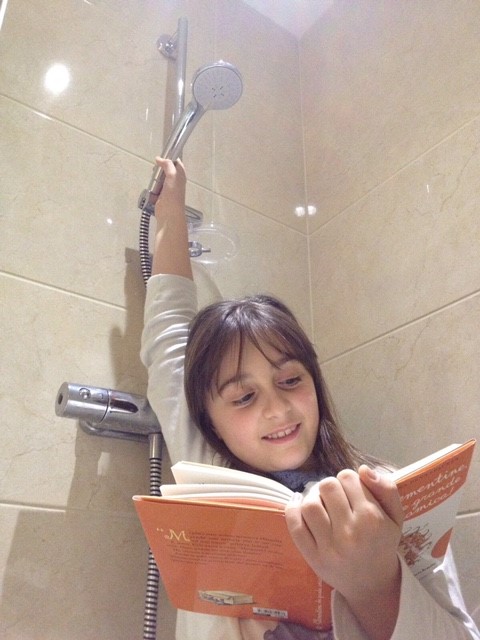 On Wednesday we talked about the Bulgarian custom of wearing a martenisa. This colourful ornament is worn until you see a sign of spring. This is celebrated each year on the first day of March.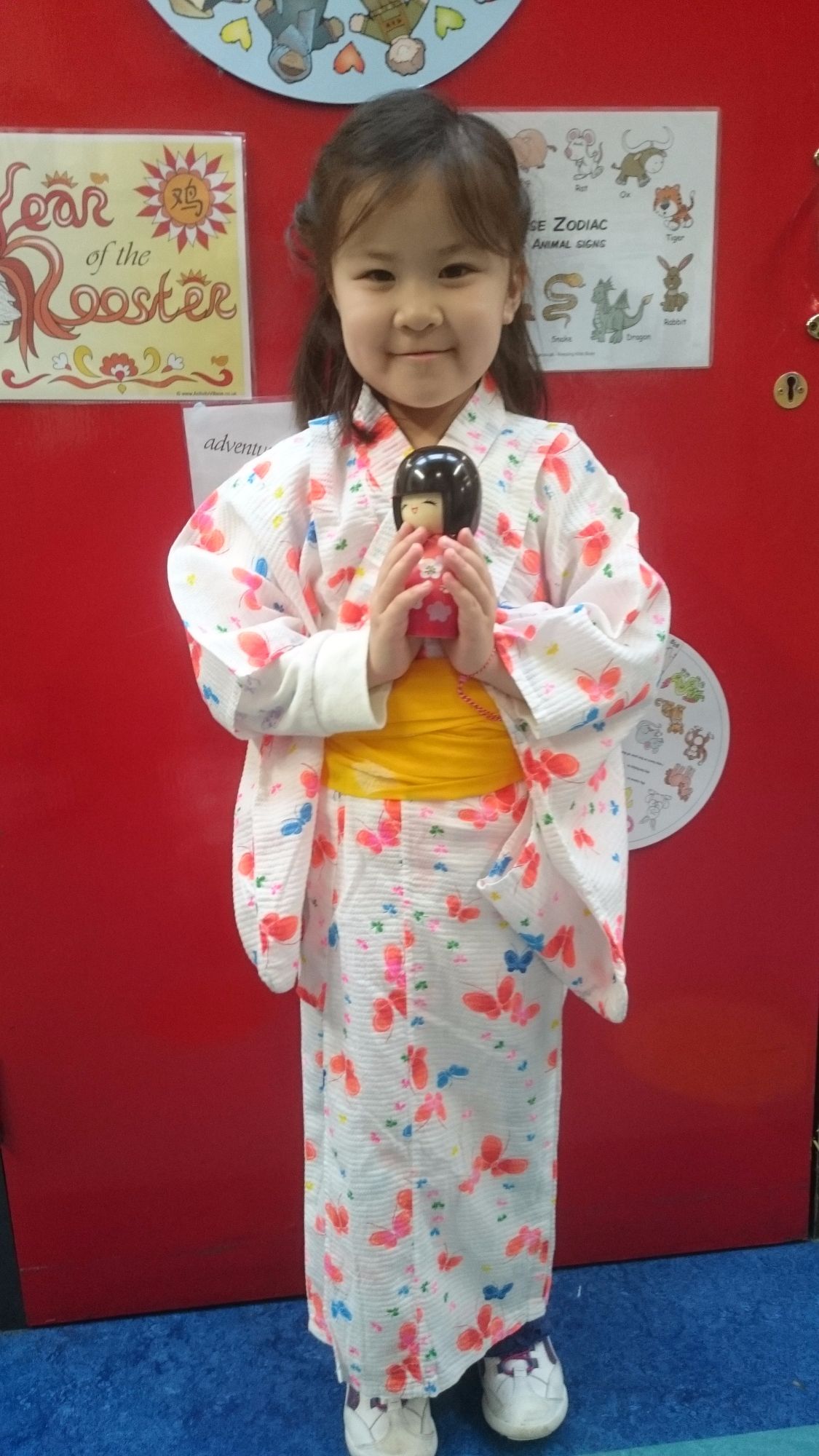 Friday 3 March is Hina Matsuri or Japanese doll day which is a day dedicated entirely to dolls. The dolls represent traditional Japanese values such as dignity and calmness, and are intended to set an example that young girls can follow.
What an exciting, action packed week!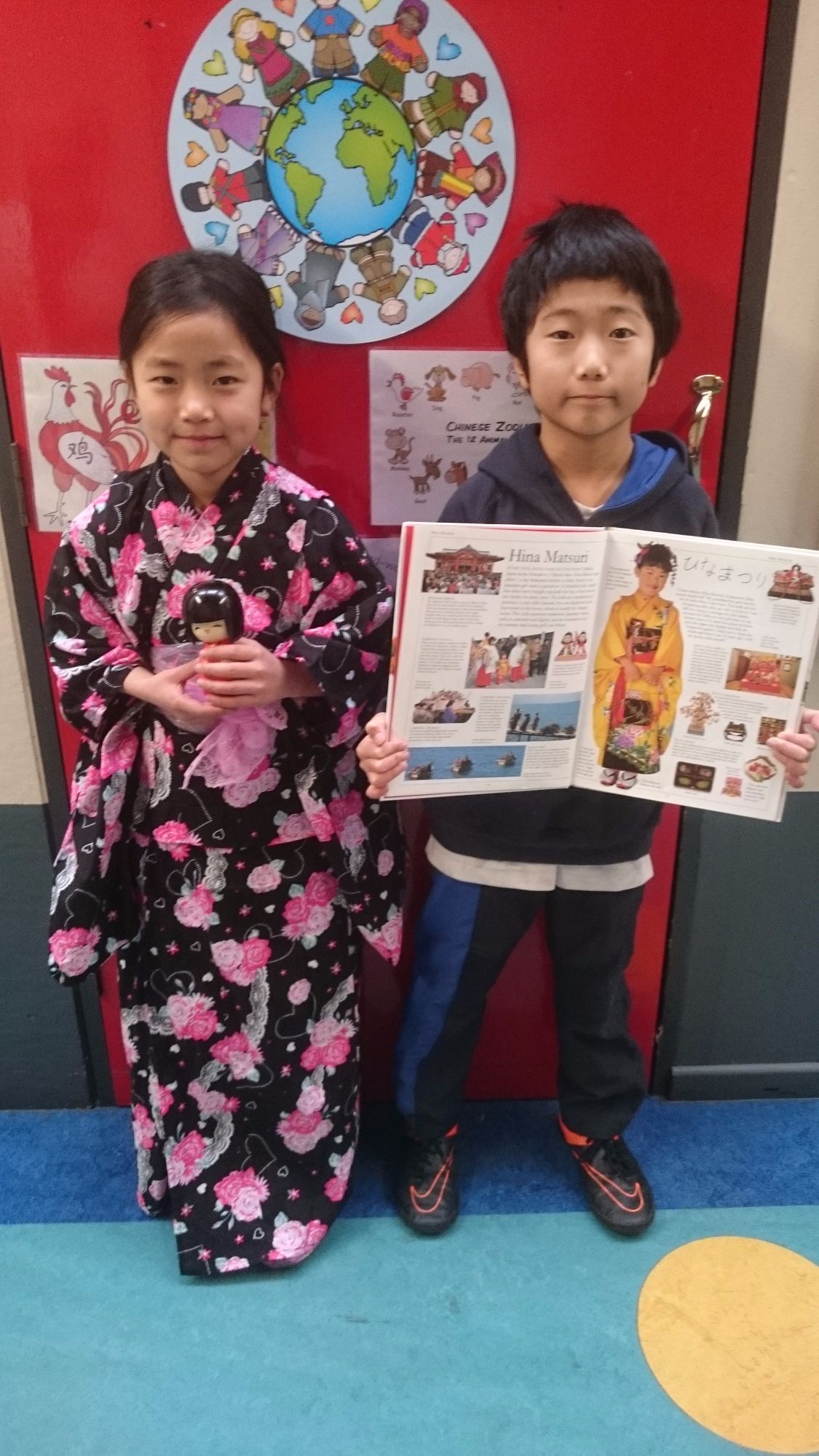 February 2017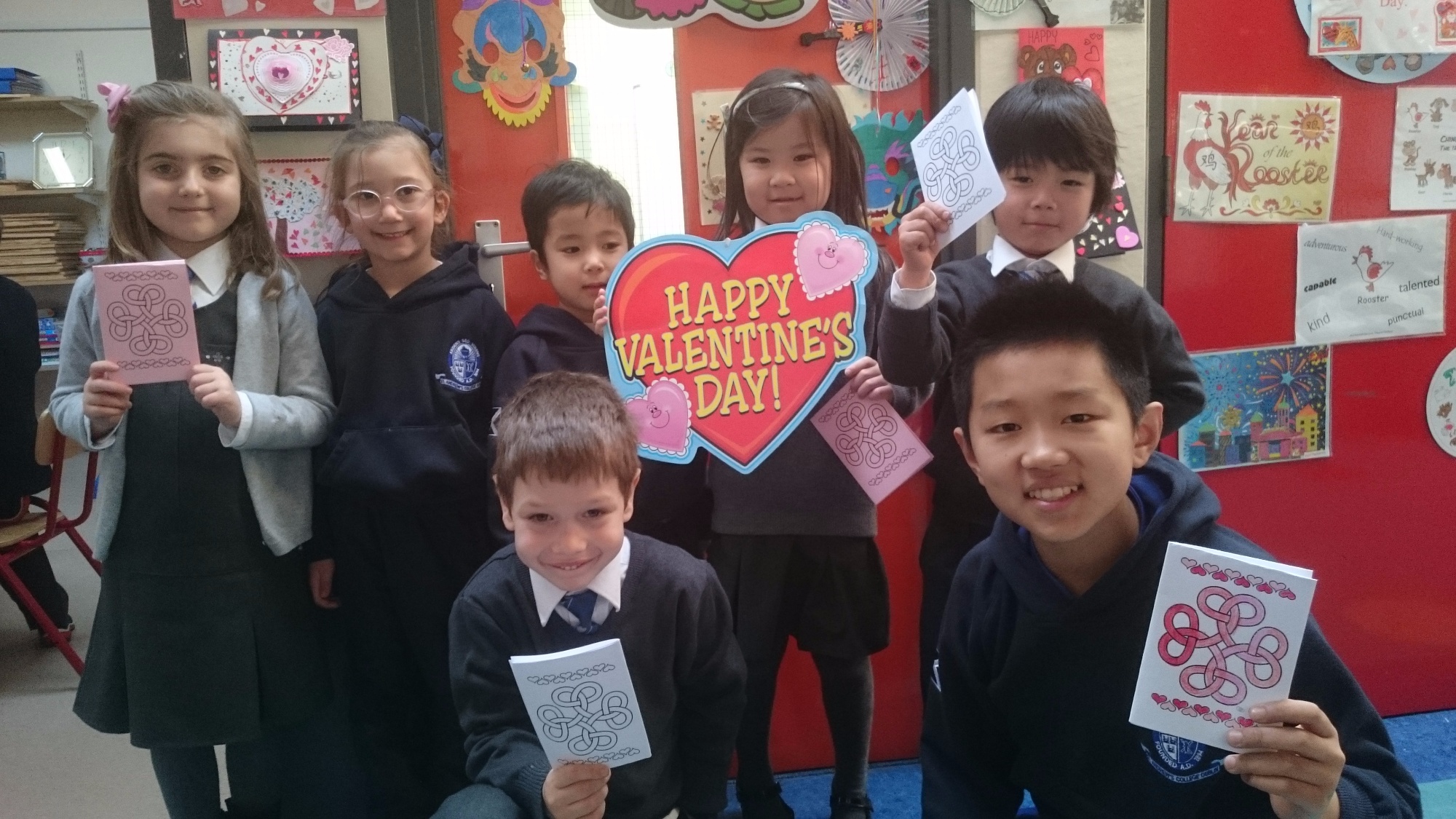 E.A.L. have been making cards and Victorian Love Knots to celebrate Valentine's Day. K1 made little trees full of hearts. The older classes composed acrostic poems. We all tried to find secret messages in our Valentine's Love Knot cards and enjoyed the traditional verse.
Here's a traditional Valentine's Love Knot,
With love for you that can't be bought.
It has no beginning and no end
It's filled with the warm wishes that I send.
Read the special message from me to you
By following the Love Knot through and through.
January 2017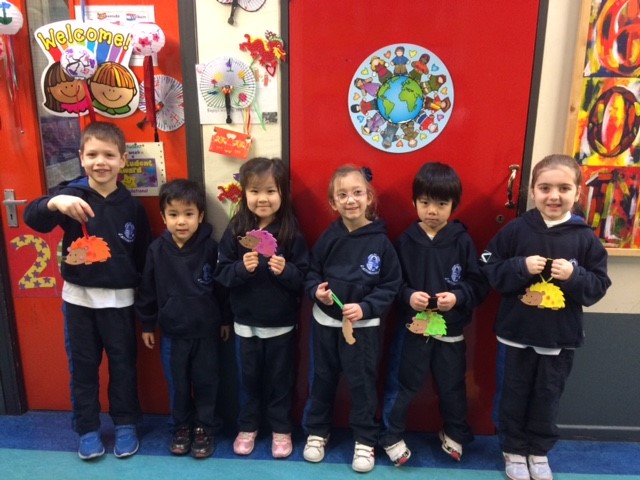 E.A.L. have finished a project on hedgehogs as part of a Winter topic. We learned that the hedgehog got its name because it roots through hedges searching for food (hedge) while grunting like a pig (hog) ; this is why it's called a hedgehog!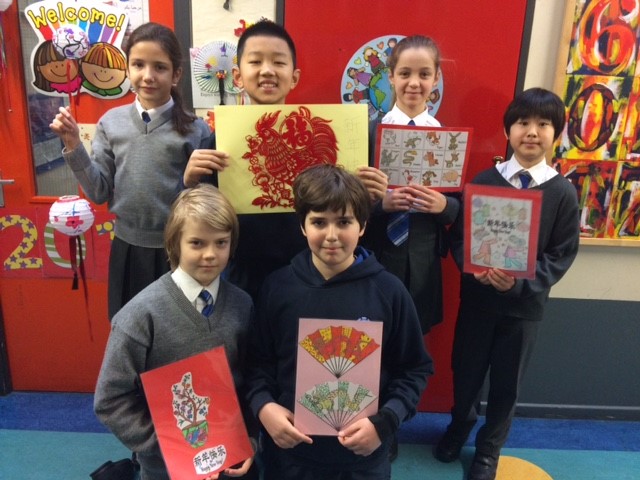 We went on to prepare for the Chinese New Year on Saturday. It is the year of the rooster. Roosters are hardworking, talented, punctual, kind, capable and adventurous. The classes had a choice and made fans, lanterns, masks, magic wands and baskets.
Happy New Year! Gong Xi Fa Cai!
A very warm welcome to Yuto who is new to Ireland and has started in K1.
November 2016
INTERCULTURAL WEEK ART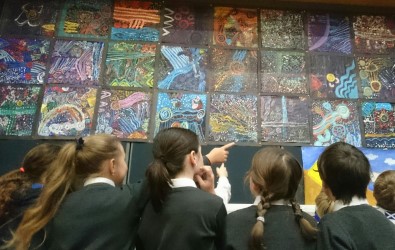 Congratulations to P3, P5, and P6 who displayed art during Intercultural Week! Congratulations to Mr Cousins as well for helping put together such a fabulous display.
INTERNATIONAL NIGHT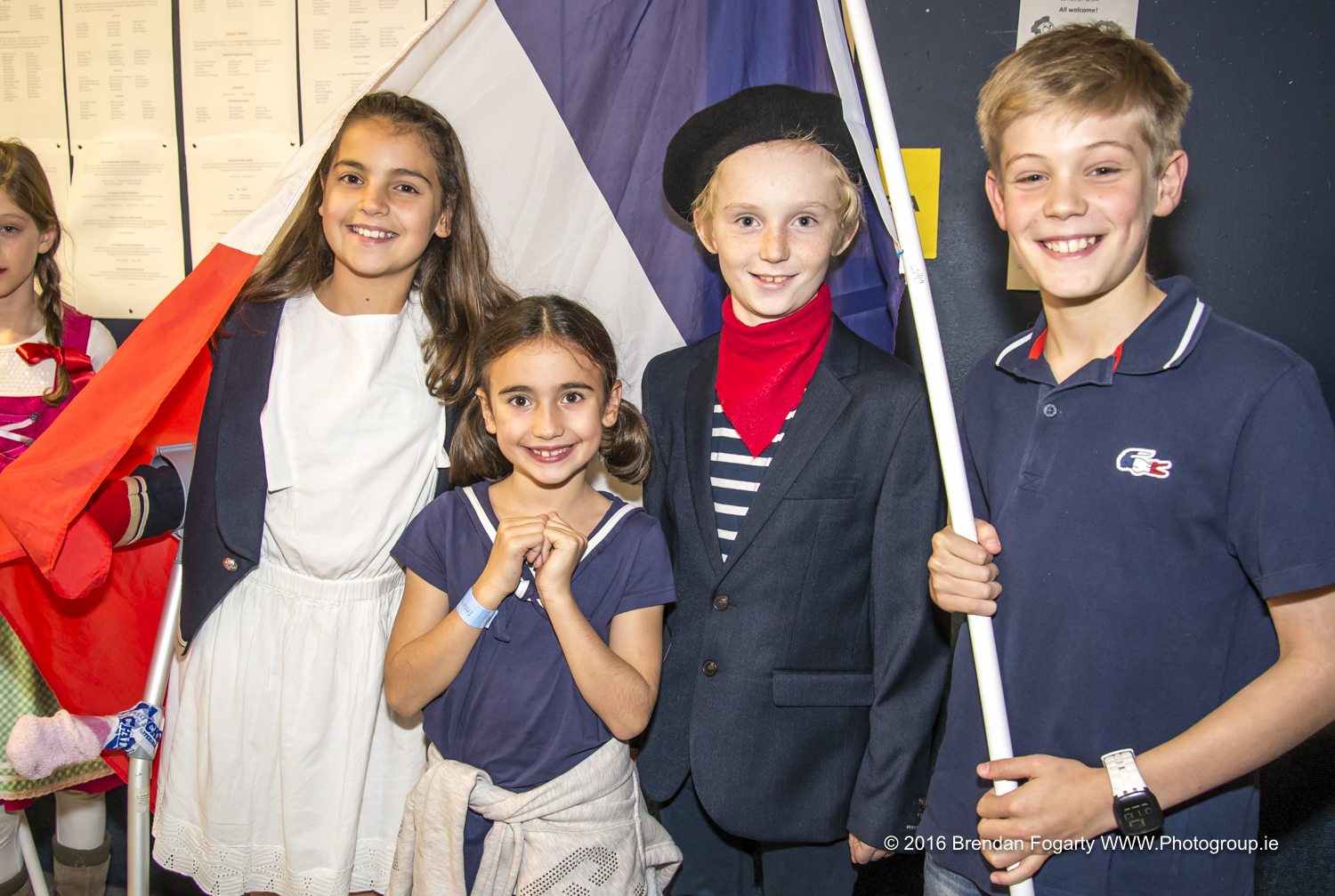 Congratulations to all students and parents who participated in International Night! The students did an amazing job marching in the parade and singing their songs and the parents did a delicious job with the food! Ms Armitage and the other teacher volunteers worked very hard to make the night such a success. Ms Miajlovic and Ms Falconer send a huge thanks to all involved. It truly was a wonderful night!
October 2016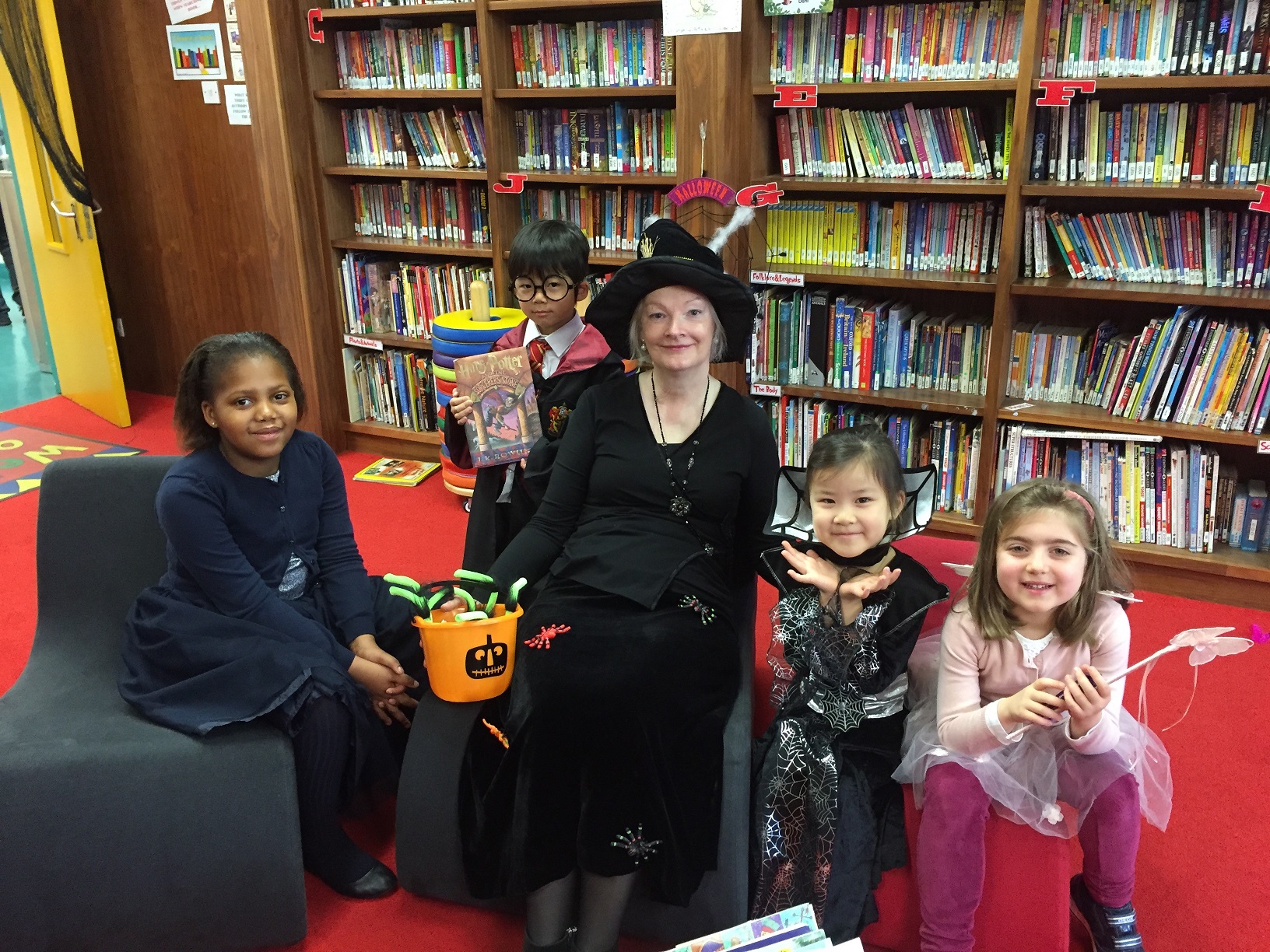 E.A.L. have been working on Halloween alliteration. Did you know that happy Halloween haunters hang around haunted houses? We have also made terrifying cards. Younger students have been filling bubbling cauldrons with weird and wacky ingredients. The heat sensitive ghost patches helped us check our answers. Happy Halloween!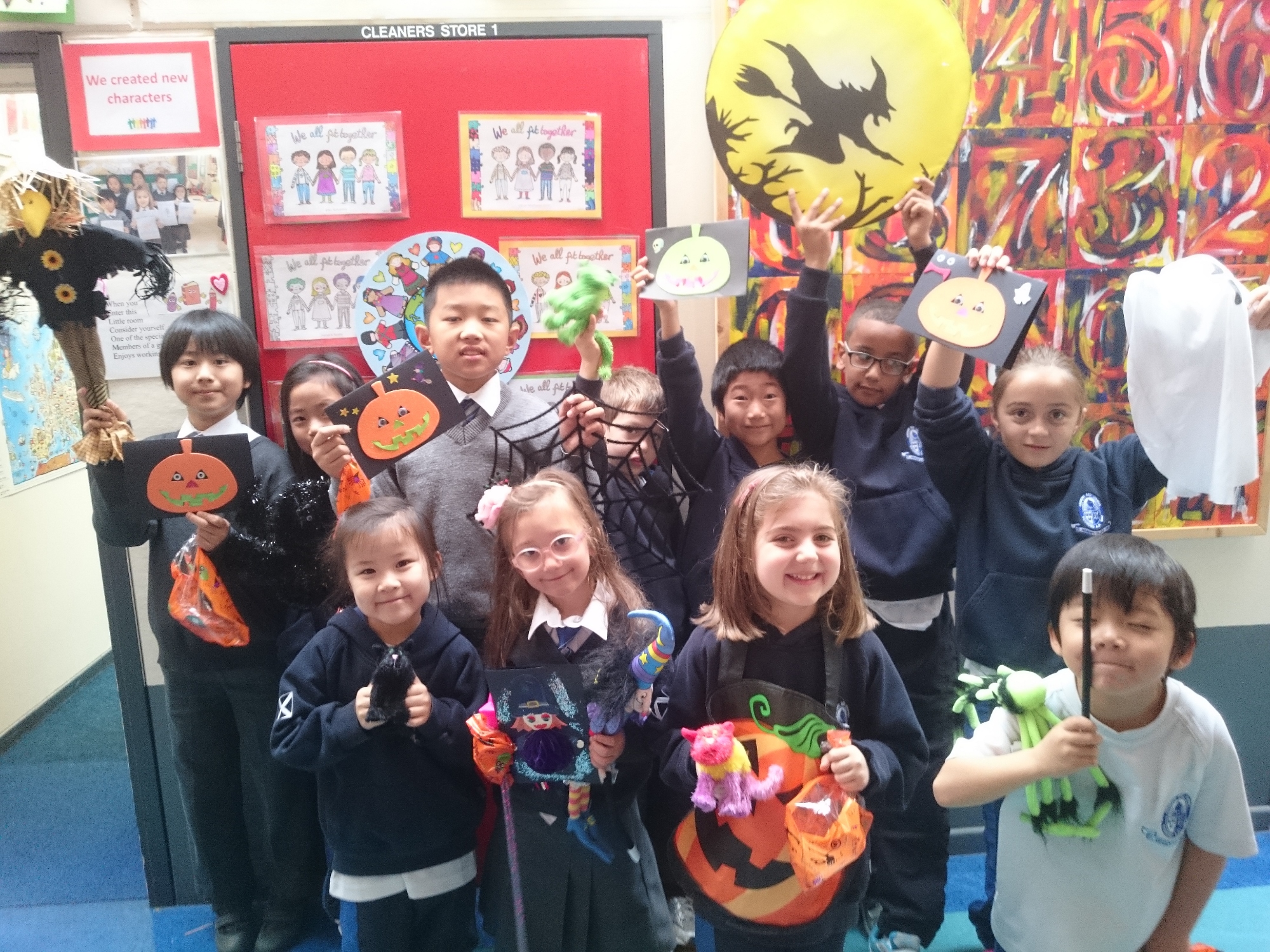 September 2016

E.A.L. have been learning that Roald Dahl used to cut out pictures of mouths, eyes and noses from newspapers and magazines to give him ideas for new characters. We went on to create our own characters and write about them. We may have spotted some book illustrators of the future.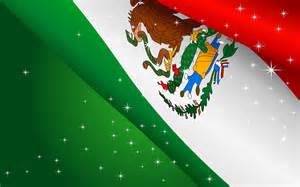 E.A.L. students celebrated Mexican Independence Day in the Junior School on 16th September. We learned that many things that people use and enjoy can be traced to Mexico. A firm favourite was hot chocolate! The flag of Mexico is green, white and red . Green stands for hope. White stands for peace and honesty. Red stands for strength and religion. Many thanks to the Mexican Embassy for helping us celebrate.
It a new school year and E.A.L. have settled in really well. We wish a very warm welcome to all of our new International students. Our quote of the week is from a Kenyan proverb:-
Treat the Earth well.
It was not given to you by your parents ,
It was loaned to you by your children.
April 2016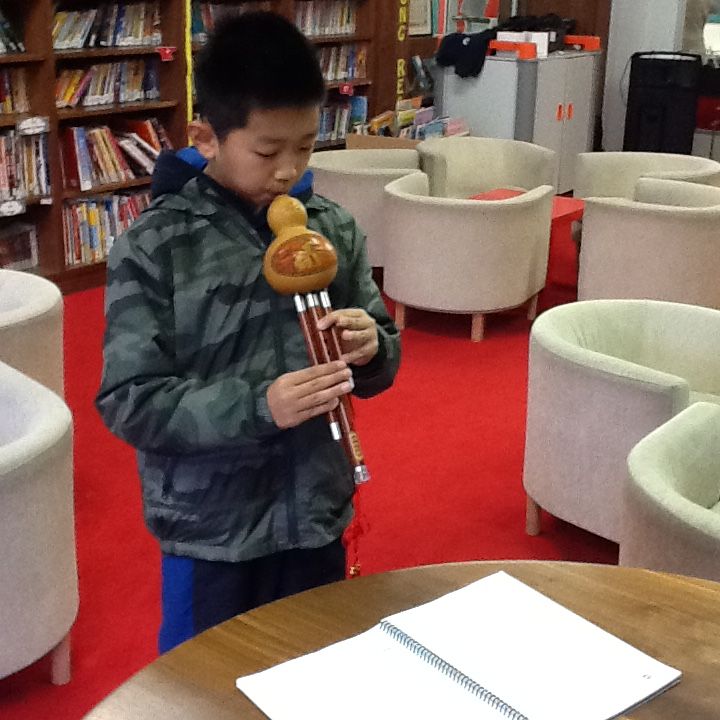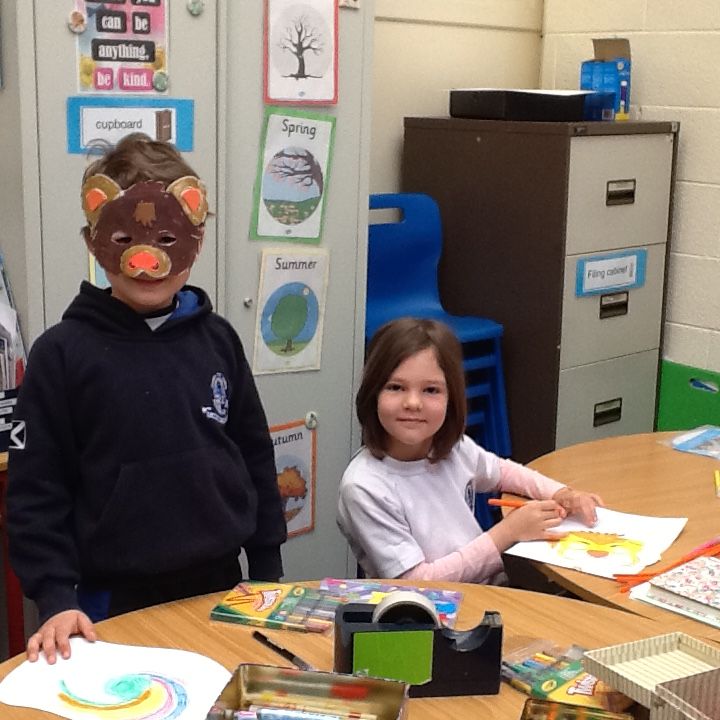 March 2016
Happy Easter from E.A.L!
In Japan on 3rd March every year Japanese families and communities hold a Hina-Matsuri or doll festival to wish good health and future happiness for girls.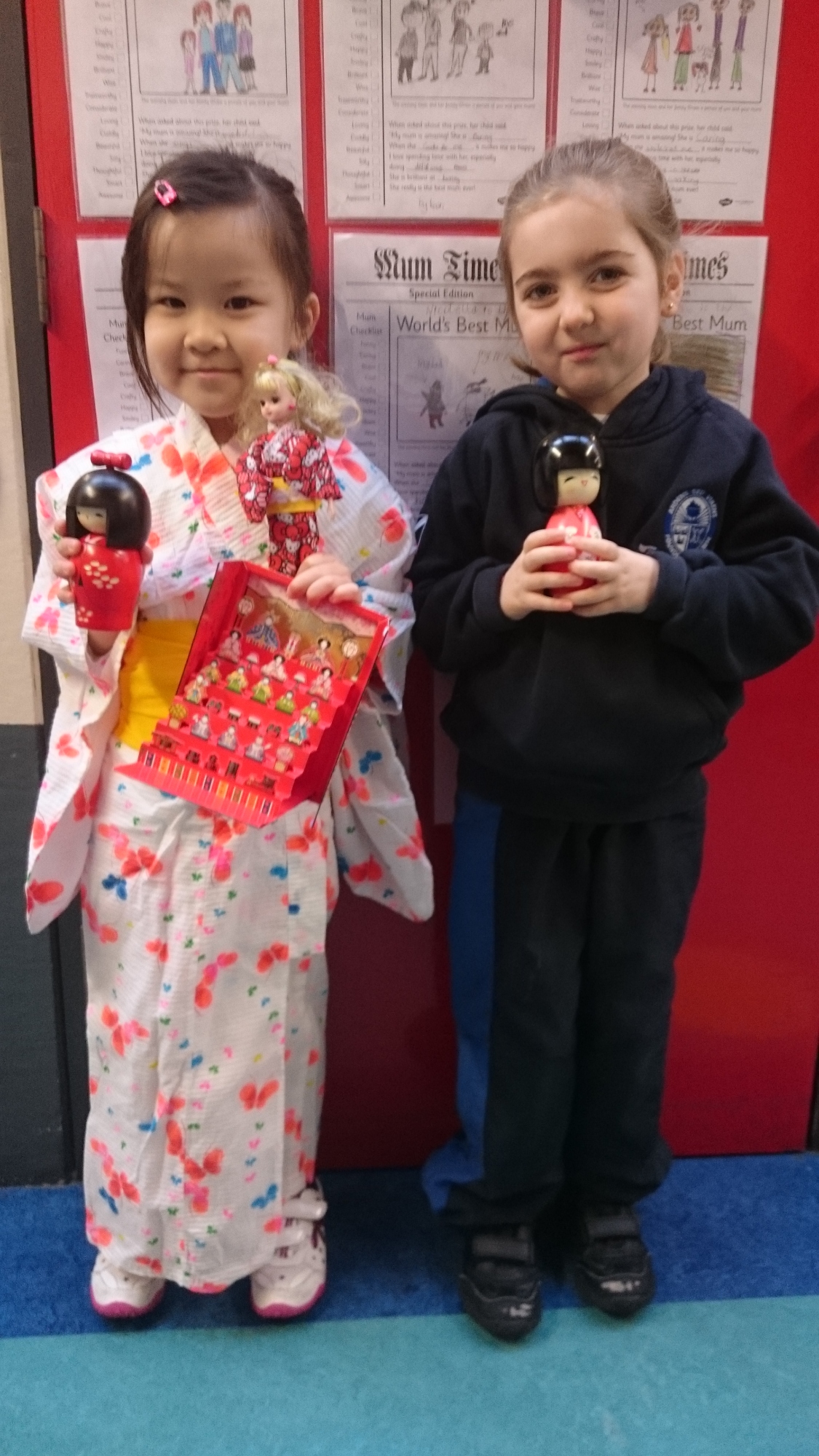 E.A.L. have been preparing for Mother's Day with great enthusiasm. K1 made handprint plants and the older children wrote newspaper articles on their mothers. We can't wait until Sunday!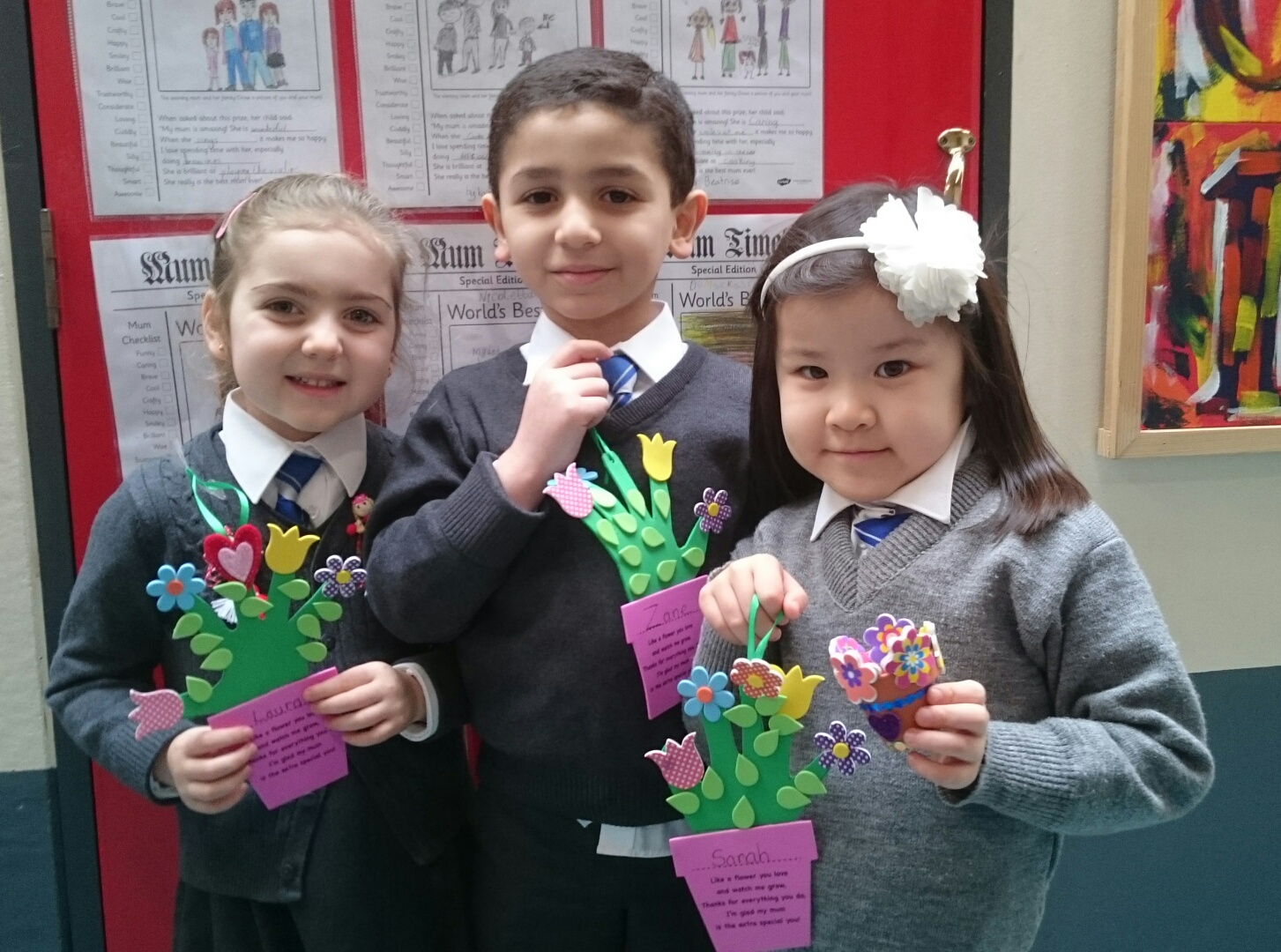 E.A.L. celebrated Martenisa which is an ancient Bulgarian tradition. Baba Marta Day is celebrated on the 1st March. This traditional holiday is related to welcoming the approaching spring. The Martenisa can be two small dolls worn pinned on clothes. This dates back as far as 681 A.D.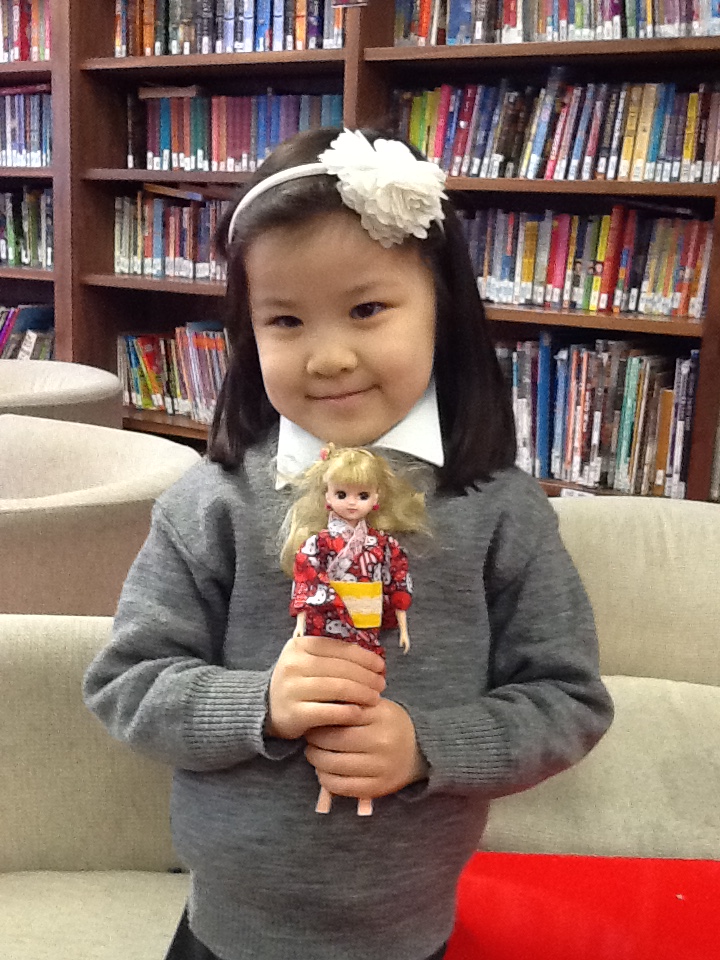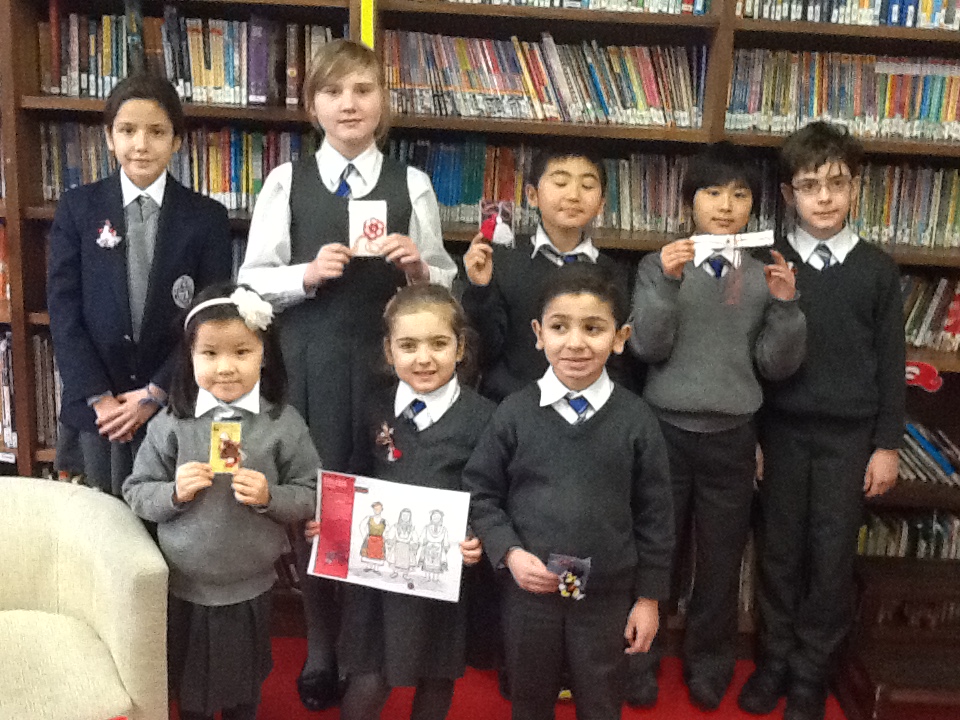 February 2016
In February E.A.L. had a wonderful time making Valentine's cards.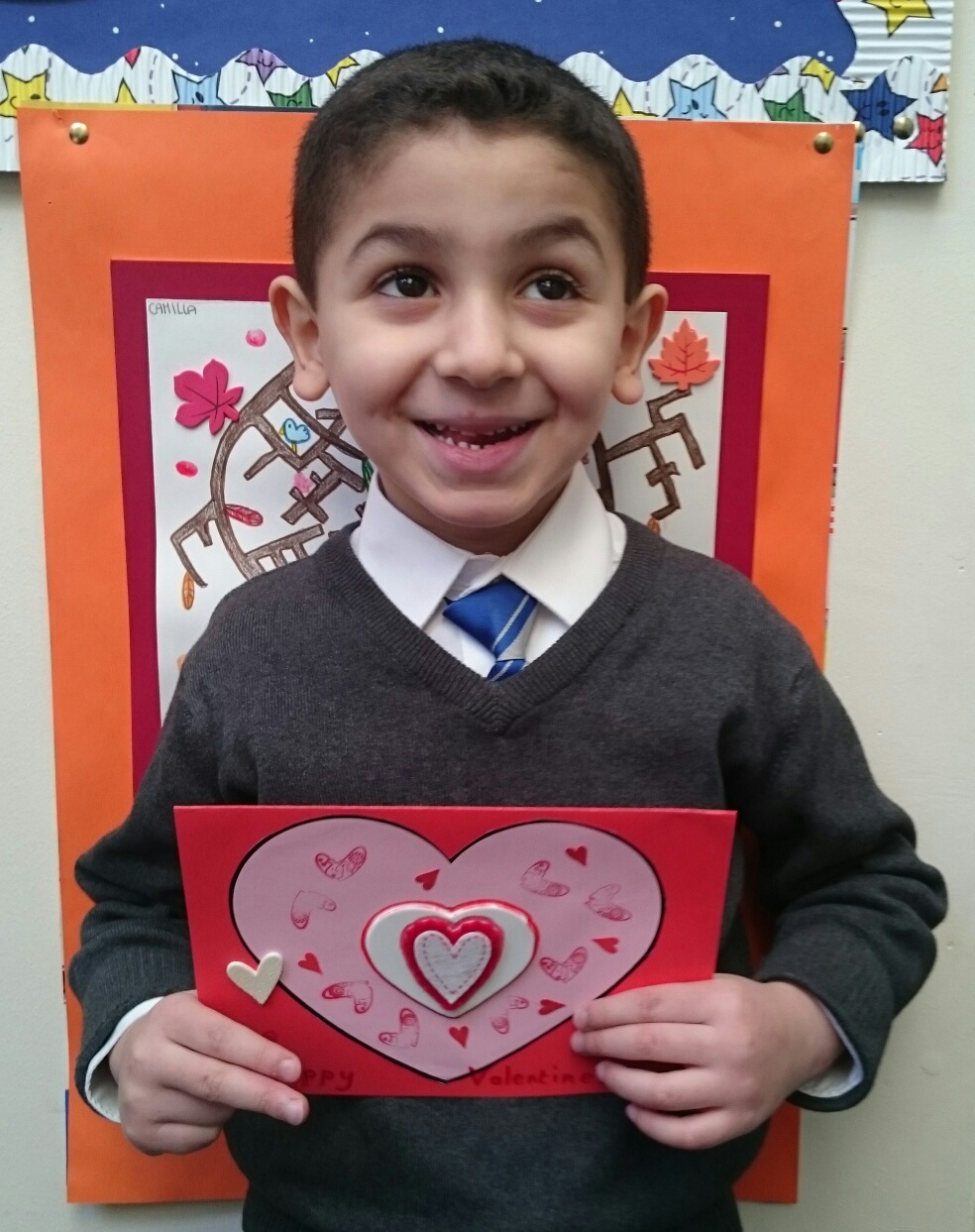 We also celebrated the Chinese New Year which is the year of the monkey. The group went on to look at Chinese idioms which put a whole story or fable into four words. This helps explain what the story means. We had a story about Sung-Yow a boy who could paint a picture and make it come alive when he added eyes. The phrase ,"Draw Dragon Dot Eyes," means you have added a finishing touch to your work.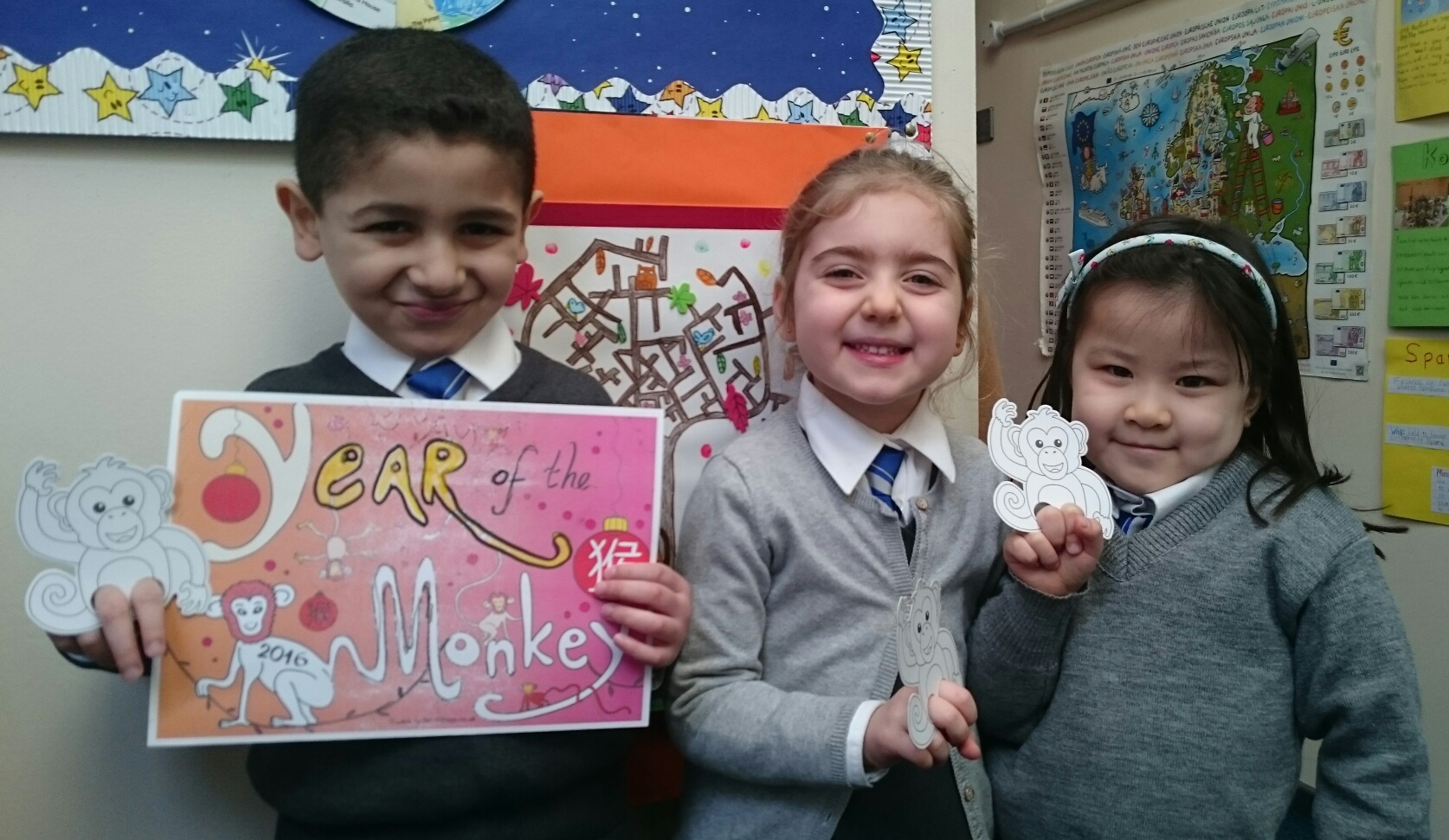 November 2015
On Friday 27 November the performers from International Night gave us a lovely Assembly. It was a wonderful celebration of the cultural diversity of St Andrew's College.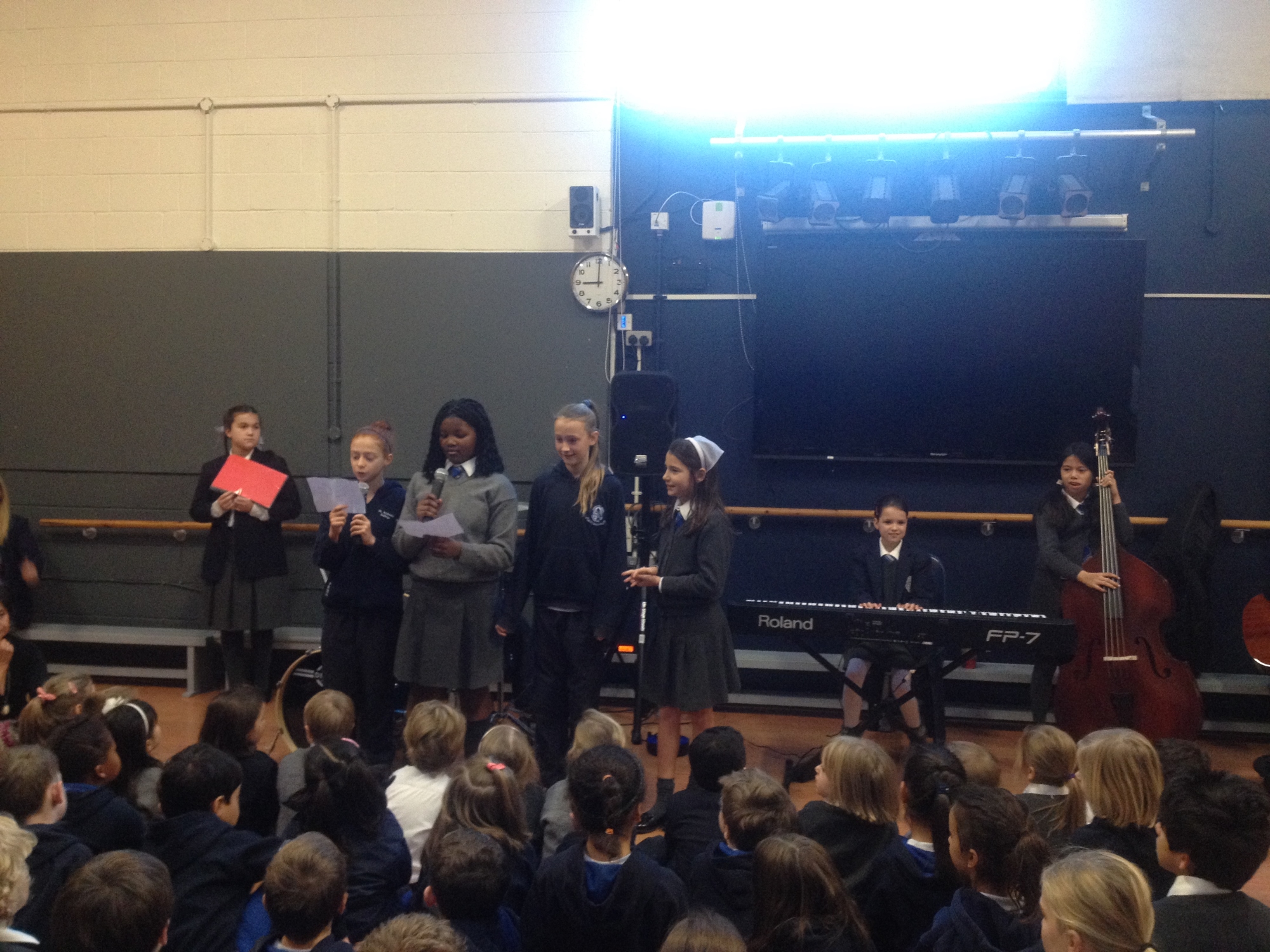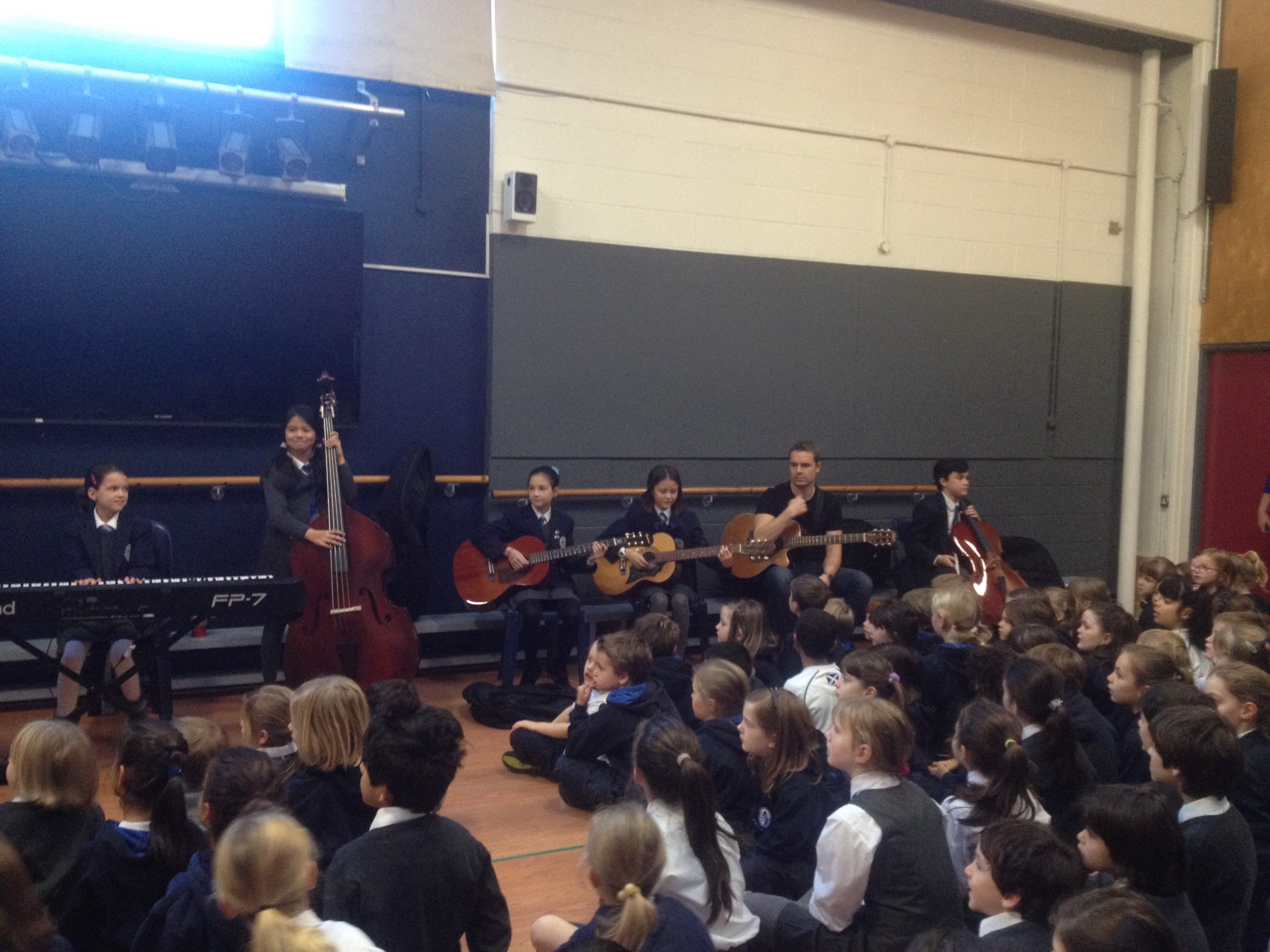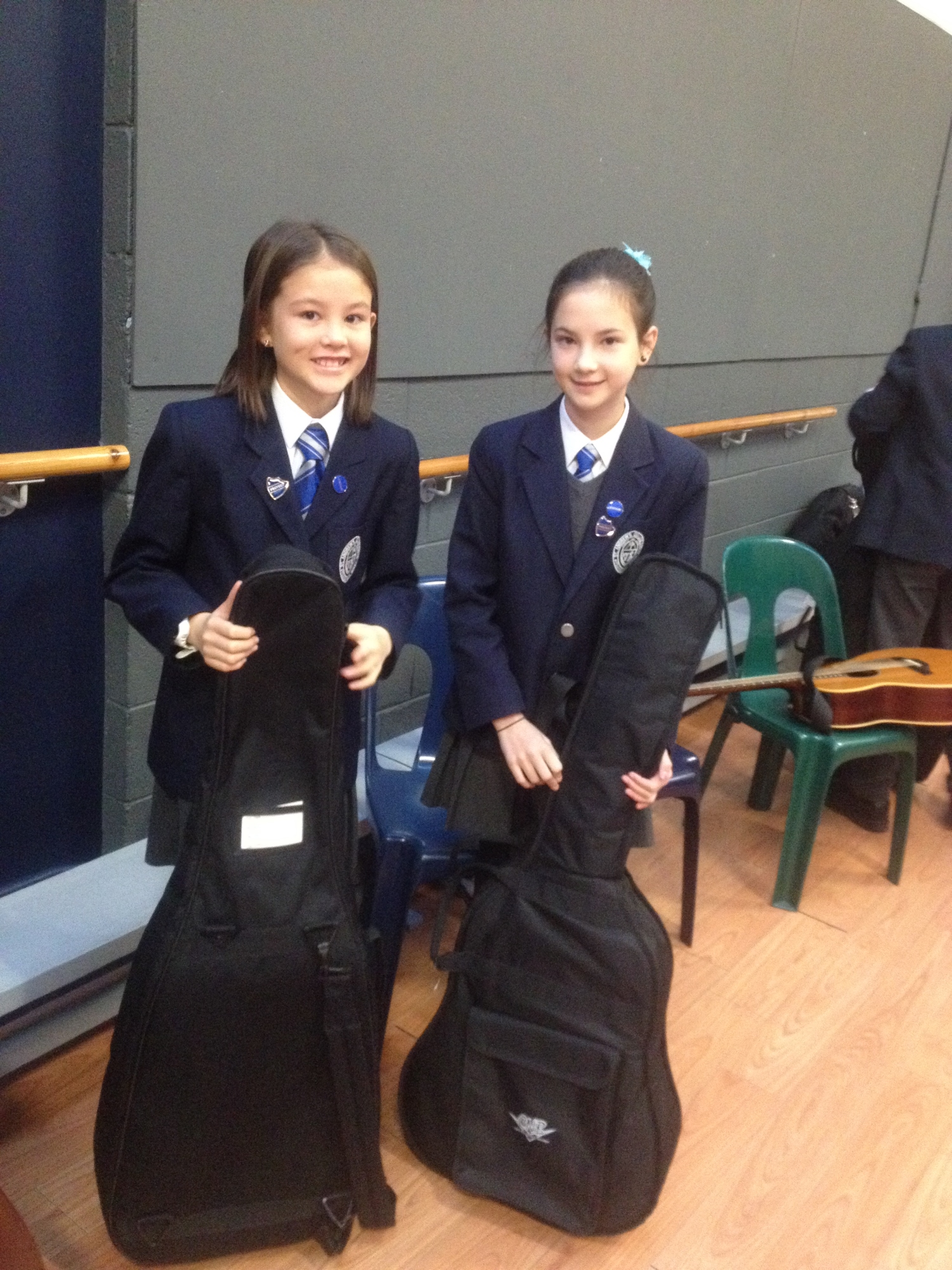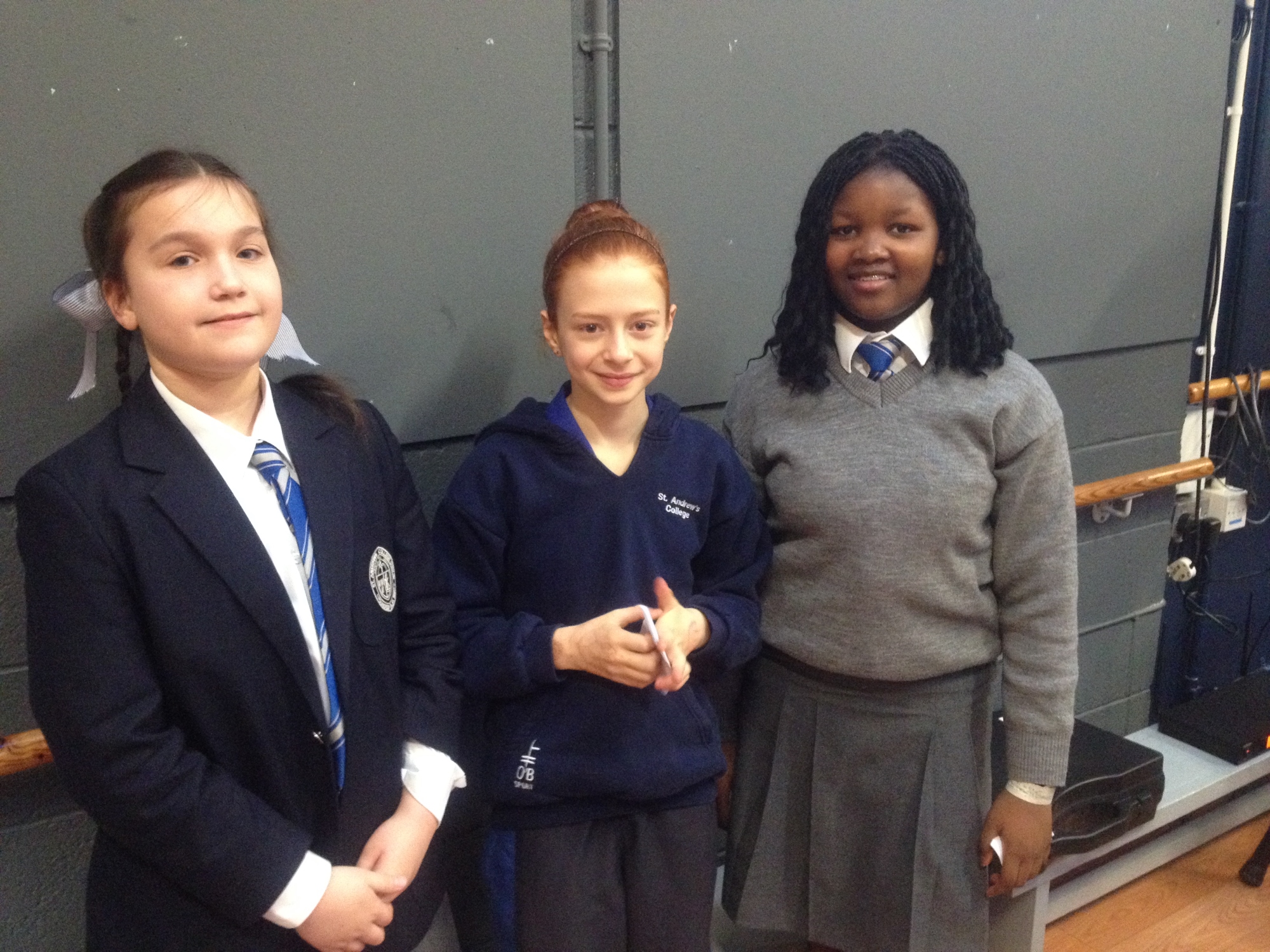 October 2015
Our children spent some time in the Library and are pictured here preparing to read books with petrifying pop-ups and ghoulastic disappearing ink!