One Act Drama Festival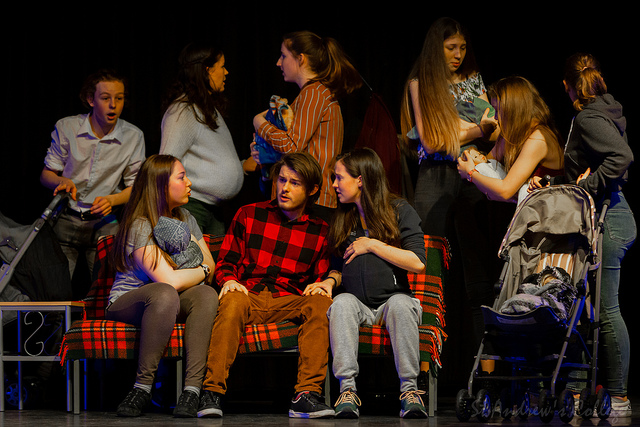 The thirty-first St Andrew's College One Act Drama Festival took place from 12 to 14 February. Our own production, Scenes from Family Life by Mark Ravenhall, was performed on the opening night. With a cast of 23, ably assisted by the student Production Team, it was a powerful performance of a very difficult play. CBS Kilkenny also performed on Tuesday night with St Gerard's School and Blackrock College performing on Wednesday. The High School and Newpark Comprehensive School productions took place on Thursday.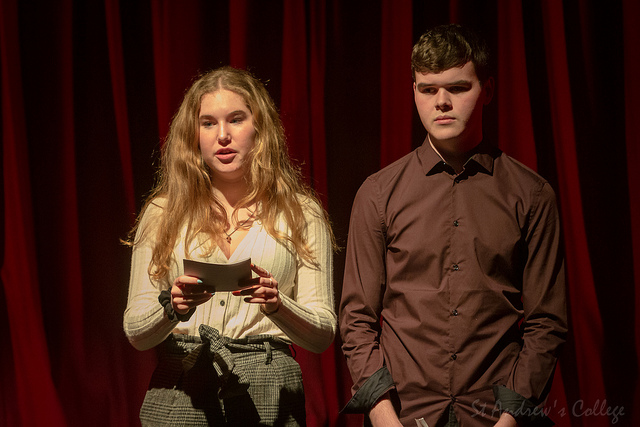 We would like to thank Mr Paddy O'Dwyer for adjudicating this year's festival.
For some photographs of our school's production please click here.
The following table sets out the results:
Award

Student

School

Certificates of Merit

Philip Foster (Jack)

Sarah Heeran and Durac (Musicians)

Niall O'Riordan (Playwright)

Michael Cagney (Jug)

Townspeople

St Andrew's College

The High School

CBS KIlkenny

Blackrock College

Newpark Comprehensive

Adjudicator's Award

William Mansfield (Moment of Theatre)

St Andrew's College

Most Promising Performance (male or female)

Tristan Roche (John)

CBS Killkenny

Best Supporting Female Actor

Olivia McKevitt (Stacy)

St Andrew's College

Best Supporting Male Actor

Christian Higgins (Rutger Shriener)

St Gerard's School

Best Female Actor

Lily Kate Hearns (Petra Gleissner)

St Gerard's School

Best Male Actor

Luke Shanahan (Benjamin Dressler)

St Gerard's School

Best Director

Sian Ní Mhuirí

Newpark Comprehensive

Runner-Up Production

Just

Newpark Comprehensive

Best Production

The Edelweiss Pirates

St Gerard's School